Local authorities in the central province of Ha Tinh will renovate the memorial site dedicated to poet Nguyen Du and Nguyen Tien Dien's family.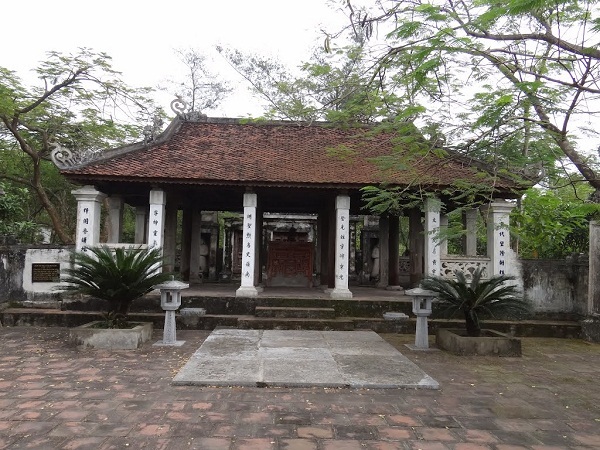 Temple dedicating royal mandarin Nguyễn Nghiễm (1708-1775), father of Nguyễn Du, inside the memorial site dedicating Nguyễn Du and Nguyễn Tiên Điền family in Nghi Xuân District, Hà Tĩnh Province. — VNS File Photo
The project to upgrade the site will cost VNĐ63 billion (US$2,709 million).
The memorial site, which is located in the poet's father's homeland in Tiên Điền Commune in Nghi Xuân District, has many buildings in serious disrepair.
Nguyễn Du (1766-1820), also known as Tố Như and Thanh Hiên, a popular poet of Việt Nam, was recognised by UNESCO as a World Cultural Figure, among 108 others, in 2003.
His most influential work is The Tale of Kiều, which recounts the life, trials and tribulations of Thúy Kiều, a beautiful and talented young woman who sacrificed her love and life to save her family. It is a 3,254-line verse novel written in lục bát, (six-eight-word distich metre), a traditional verse form of Vietnamese poetry.
The work is very popular in Việt Nam, and many people know the epic poem by heart. It has been translated into over 20 different languages, including French, Chinese, English, Russian and Japanese.
The project will renovate buildings, house hosting steles and the Trường Ninh Pagoda. It will also upgrade parking places and surrounding infrastructure like gardens, drainage canals, the temple and tomb site of Xuân Quận Công Nguyễn Nghiễm (father of Nguyễn Du (1708-1775)), the temple and tomb site of La Khê Hầu Nguyễn Trọng (another relative of Nguyễn Du) and roads leading to and inside the the relic site.
The cost for the renovation will be taken from the budget of the province and state, as well as from other sources.
The memorial relic site dedicated to the noted poet Nguyễn Du and the Nguyễn Tiên Điền family has many buildings and relic remnants scattered over a total area of 20ha, extending from the southern bank of Lam River to Đồng Cùng region.
The site includes the Nguyễn Huệ Đại Vương Temple, Tiên Bridge, Memorial Museum, Nguyễn Nghiễm Temple and Nguyễn Trọng Temple, which is one kilometer away from Nguyễn Du's tomb.
The Nguyễn Du Memorial Site alone covers a total area of 2 ha, which includes two wooden houses for writers' meetings, a stele dedicated to Nguyễn Quỳnh, a temple dedicated to Nguyễn Du and an exhibition hall dedicated to Nguyễn Du.
The Nguyễn Du temple was first built in 1825 in his family's garden in Tiên Điền Village.
The temple has a simple altar made of sand and mineral lime. Some objects date back to Nguyễn Du's time such as a calligraphy work presented to him by a Chinese mandarin of the Qing Dynasty, and an old ink tray.
The exhibition hall displays some of Nguyễn Du's objects, including wine cups, a compass, ink tray, a deer's horn used to serve as a shirt hanger in his house, a wooden painting depicting a procession receiving doctorates at a royal contest, and royal promoting decrees.
Nguyễn Du's brick-built tomb is surrounded by a garden.
The memorial site, which has been recognised as a Special National Relic Site, was renovated once in 2001-2003 by the Ministry of Culture and Information. — VNS