Nguyen Huu Thang being named in the Vietnam U22 squad was no surprise after his superb form in the 2020 season.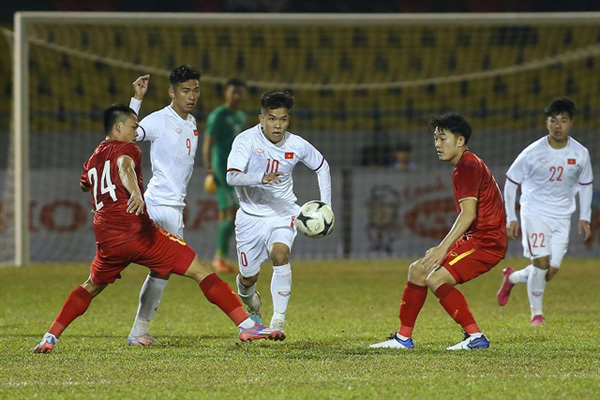 Nguyen Huu Thang (centre) of the U22 squad tries to escape from players of the national team during their friendly match on December 23. Photo goal.com
His performance in last Wednesday's friendly match against the senior national team only further proved his talent and showed why many people believe he is a future star of Vietnamese football.
The 20-year-old midfielder of Viettel FC stole the spotlight and assisted captain Tran Van Dat to open the scoring in the 20th minute.
Thirty minutes later, the U22s earned a penalty after Thang was fouled in the box and he stepped up to net the team's second goal.
The U22s lost 3-2 but Thang's performance was praised by national team midfielder Nguyen Van Viet in a post-match interview.
"He is the pacemaker of his team and, sometimes, the match too. He is a bridge linking the whole U22s," said Viet.
Thang is not a new face to South Korean coach Park Hang-seo's squad and was called up to the U23 team to compete in the Asian Championship early this year.
He won Park over with his outstanding form with Hue FC in the 2019 V.League 2 season when he scored seven goals.
In 2020, Thang joined Binh Dinh FC on a one-year loan deal and quickly became a key cog in the side.
In the opening match of the V.League 2, Thang created a super goal from 40m in Binh Dinh's 4-0 win over Dak Lak.
He was in the starting team in 14 out of 16 matches, scoring six goals and assisting nine and played a big role in winning promotion to the V.League 1.
Thang was voted the most valuable player of the club in 2020 by the tournament organisers and has been shortlisted for best young player of the year, one prize of the annual Golden Ball Awards, which will be announced in January.
Binh Dinh coach Nguyen Duc Thang said his midfielder was smart, could play different roles and had a bright future ahead of him.
"He has the 'genes' of a central midfielder who can read matches well. He is also really good in passing and keeping the pace of the game," said coach Thang.
"However, he needs to improve his body shape and physique along with earning more competition experience. He is still young and if he can make it, he will be a great midfielder."
After the V.League 2 season ended, Thang returned to Viettel and competed in the U21 championship early this month.
Under his leadership, unbeaten Viettel took the trophy while he was named player of the final, best player of the tournament and won a slot in the best XI.
Coach Thach Bao Khanh said Thang would be a star for any team.
"U21 Viettel is home to many talents. Among them Thang is the most special," said former national team striker Khanh.
"He is a playmaker for the team. He can either shine himself or become a great assistant to help his teammates fly high. These are characters of a star," Khanh said after his team won in Nha Trang.
Thang's performances drew Park's eyes and he was selected for the training camp as the U22s are preparing for important competitions including the AFC U23 Championship qualifiers in October and the 31st SEA Games in November.
Vietnam will defend their SEA Games title at the end of 2021 when star midfielder Nguyen Quang Hai is overage and pundits believe it's time for Thang to take the limelight.
"He has a simple but effective playing style. He would be more successful if he could strengthen his ability to tackle and keep the ball. There is no doubt that he will be a key man at the SEA Games," said coach Khanh. 
Coach Thang agreed with him.
"A year ago I have talked about him. I know that with such skilled technique he could replace Hai in not only the young squad but also the senior team," said Thang.
"Yes, he still has weaknesses. But giving him more chances to play and nurturing his growth will make him much better," he said.
"Last time (at the SEA Games), Park deleted Thang from his list. But I think that he will survive this time. He has been trained a lot during his time with Binh Dinh. He is much different now.
"I will not be surprised if he is called up to the national team next time."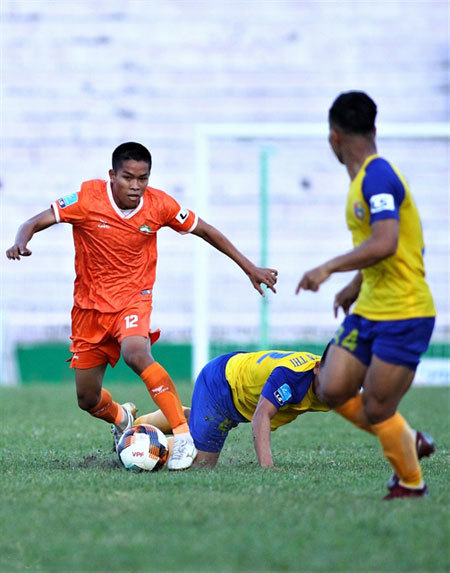 Nguyen Huu Thang (left) plays for Binh Dinh FC in the 2020 season. He was the best player for the club last season. Photo zing.vn
Talent
Thang is a product of the Viettel football training centre.
At the age of 16, the Hue-born player helped Vietnam place second at the ASEAN U16s Championship before entering quarter-finals of the Asian U16s Championship tournament in 2016.
He has collected many individual titles from local and international events since then.
With his skills, accurate free kicks, good defence and attack abilities, he is one of the rare young players given the chance to play at the highest levels of domestic football regularly.
He will play for Viettel in the coming season as the club attempt to defend their title.
"I always play my best in all matches that I am on the field," said Thang who is only 1.70 metres tall but believes his size is sometimes an advantage.
"It is challenging when I play high balls. But being small I am faster and more agile than others. I can push my speed to the maximum in a short time and over a short distance," he said.
Knowing his strengths and weaknesses, two-footed Thang said he had a chance to join the SEA Games squad.
"I dream about the 31st SEA Games where we play on home turf. It is one year to go and I will try to catch my opportunity. I will make coach Park put my name in the final list," he said. VNS
Thanh Ha

Head coach Park Hang-seo has announced a squad of 24 players who will make up the U22 team for their final gathering of 2020, with the side competing in two friendly matches against the senior national team this month.

The Vietnam U22 men's football team put on a display of great determination during a training session held in Hanoi yesterday as the squad get preparations underway for the 31st Southeast Asian Games which is set to be held in the nation next year.