The Vietnam Mixed Martial Arts Federation (VMMA) will soon make its debut as Deputy Minister of Internal Affairs Tran Anh Tuan has signed the decision to allow its establishment.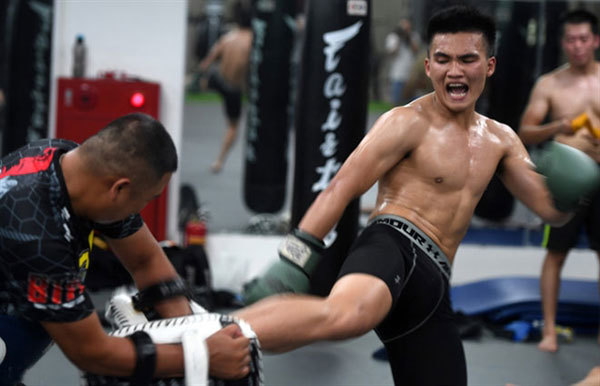 Training mixed martial arts in a club in Hanoi. Photo hanoimoi.com.vn
The VMMA meeting is scheduled to take place in the first quarter of this year to elect an executive board.
"The establishment of the VMMA is suitable with the general development trend of the mixed martial arts in the world. In Vietnam, this sport develops quickly but it is unprompted and competitions aren't allowed, but many have still been held. Some contests have even turned into violence," said Nguyen Ngoc Anh, head of the Elite Sports Department of the National Sports Administration.
"The debut of the VMMA will help the sport and related organisations give directions, control and help mixed martial arts get back its real value. The VMMA will put forward laws and regulations to organise events in Vietnam, alongside welcoming international events such as the ONE Championship," said Anh.
According to Anh, the important thing is to lead MMA to develop suitably with Vietnamese culture.
"Mixed martial arts have developed fast in the world. It is part of the sporting economy, a legal and legitimate economy source. If Vietnam can control it well, mixed martial arts will bring big finances for Vietnamese sport," Anh added. VNS
Tran Quang Loc, nicknamed the Tan Monster, has long been known as a trailblazer in the local mixed martial arts (MMA) scene, and now he's seeking to make his mark on the international stage.

Professional mixed martial arts (MMA) fighting may finally be coming to Vietnam.