Flicking through the pages of some of his old currency albums, Phung Van Hung's mind rewinds to the first time he became fascinated with money.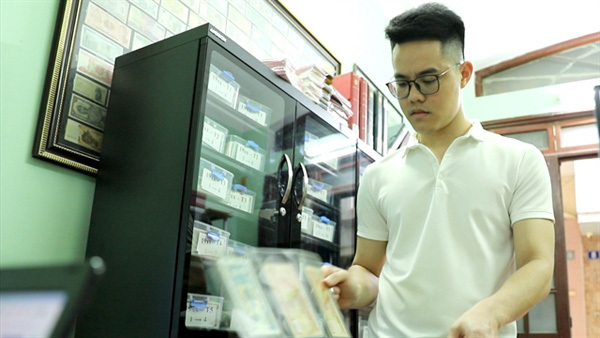 NOSE FOR NOTES: Phung Van Hung has pursued his hobby of tracking down old money for more than a decade. VNS Photo Hong Van
It was 11 years ago the 30-year-old began his hobby, and since then he has spent most of his free time searching for old notes to add to his collection. And it's not just old Vietnamese currency that excites him, as he's also a lover of money from other countries.
Right now his collection is bursting at the seams, with more than a million different types of notes. But there's always room for more.
"I have collected old notes since 2009, so it's been more than 11 years now," he said. "A passion for old money is in my blood. When I went to the Hanoi Museum and saw a currency album, it piqued my interest and I began searching for and collecting old currency. My first album is one that I bought at the museum, which cost me VND150,000, or about US$9 at that time."
When he first began collecting money, Hung was still at university so struggled to buy the ones he desperately wanted.
Sometimes he even went hungry, preferring to spend his cash on old notes rather than a bite to eat.
"It was very tough when I first started out collecting," he said. "I was a student at the time, so I didn't have much money for trading. I couldn't ask for my parents' help, so I used money for meals to build up my collection. And I think those tough times make me appreciate my hobby even more."
He believes a collector must have the ability to understand different notes, comparing and classifying them in order to assess their true value.
"People think that the older a note is, the more expensive it will be. But that's not true," he explained.
"Value is defined by rarity. For example, a VND2,000 note issued in 1987 by the State Bank of Vietnam is not that old but it's worth more than VND1 million today. One piastre of French Indochina, printed between 1923-1939, is only valued in the tens of thousands of VND despite being a century old."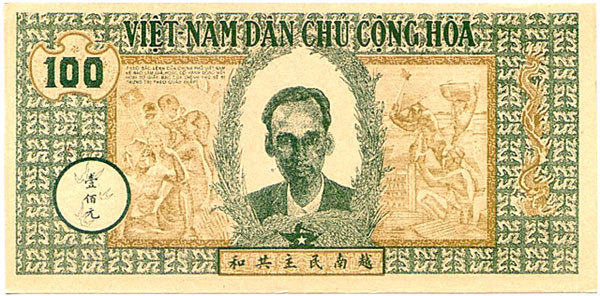 PRICELESS: One of the first banknotes was issued by the Democratic Republic of Vietnam in 1946. Photo courtesy of Phung Van Hung
He believes that each note has its own spirit and value. Once a collector understands that, they can see all of the interesting and beautiful aspects of an old note.
"The note that impresses me the most is a red 500 dong note issued in 1972 by the Sai Gon administration, and bearing an image of a tiger," he said.  
"When I had it, the market price was between VND30,000 and VND50,000. But now it fluctuates from VND120,000 ($5) to VND200,000 ($9). As time goes by, it has become rarer." 
Vast knowledge and understanding of history and culture along with passion are key to Hung pursuing his hobby.
It's not all been easy sailing, however, as he has faced a range of problems and sometimes learned lessons the hard way.
"At first, I didn't have any experience in identifying fake notes," he recalled. "So, when I accidentally bought some fake money, I just had to grin and bear it, but I remembered the features of those fake notes. Now I can identify genuine notes with just a glance. The easiest way is to put the note under a light, and there should be a hidden image, called a watermark, which isn't replicated in fake notes."
Hung has bought a number of moisture-free cabinets to house his collection. The humidity is set to 50 per cent to protect the old notes from Hanoi's weather.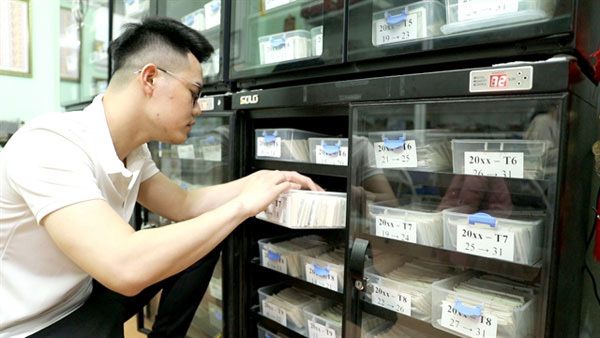 STASHED AWAY: Hung bought special cabinets to protect his collection from Hanoi's humid weather. VNS Photo Minh Phuong
"When you love something, you will find a way to cherish and care for it," he said.
"I put any precious or easily damaged notes in these cabinets. To be even more careful, I use an OPP bag, which is specifically made to protect money, then put it in an album before placing it in one of the cabinets."
Hung also focuses on collecting notes with rare serial numbers that may signify famous dates in history or people's birthdays.
After more than 11 years of collecting, his reputation has grown among more than a thousand professional currency collectors in Vietnam.
He even created a website to share news or arrange trades with those who share his passion.
"Money collecting is a great hobby and makes me happy," he said.
"More than that, it helps me learn a lot of things relating to history and culture. My ambition when I started collecting was to acquire different types that others wanted. I will try to open a private currency museum in the future with all the money I've earned. That seems impossible now, but I think I will be in a position to make it a reality one day."
Many people may pursue money for wealth, but for Hung it's the history of the notes that, in his eyes, makes the money priceless.  

Money collecting facts
The most expensive coin ever sold was the 1794 Flowing Hair Dollar, which fetched over $10 million in 2013.
The largest banknote is the 100,000 peso note made in the Philippines in 1998, with impressive dimensions of 21.5cm by 35.5cm. It was printed to celebrate the success of the country's independence movement.
The smallest banknote is Romania's 10 Bani note, printed in 1917 and with dimensions of just 27.5mm by 38mm.
Many celebrities also share an interest in coin collecting, including Beatle Paul McCartney, actor Jack Black, and actress Nicole Kidman.
The term numismatist applies to collectors and coin dealers as well as scholars studying coins.
VNS