A series of cultural activities are taking place at the Vietnam National Village for Ethnic Culture and Tourism throughout this month featuring the unique cultures of ethnic groups across the country.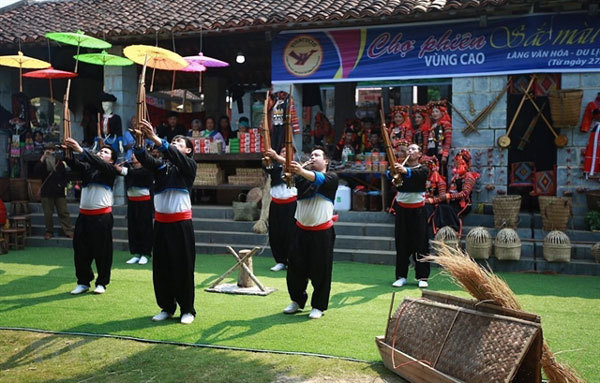 Men from Mong ethnic group perform the khen (pan-pipe) dance at the Vietnam National Village for Ethnic Culture and Tourism. — VNA/VNS Photo Trong Dat
The events, which started at the beginning of the month in the Dong Mo tourism area, Son Tay District, are part of the Đại đoàn kết tinh hoa văn hóa các dân tộc Việt Nam (Great Unity – The Cultural Quintessence of Vietnamese Ethnic Groups).
They are held to honour and boost the preservation of ethnic cultural values.
Folk songs, dances, cuisine, specialties and traditional customs of the groups will be on show.
The highlight will be an art programme entitled Huyền thoại loài hoa tam giác mạch (The legend of Buckwheat Flower), with stories about the familiar flowers in the northern mountainous region.
The programme, with performances by Viet Bac Culture and Arts College and local artisans, will feature songs praising solidarity among ethnic groups around the country.
Ethnic minorities including the Mong, Dao, Tay and Nung peoples will gather at a cultural area to show their unique cultural and culinary activities, such as performances of then singing and tính gourd lute by Tay and Nung ethnic groups, bell dance of Dao, khen (pan-pipe) dance by Mong.
Meanwhile, ethnic groups of Thai and Kho Mu will present their traditional dances such as xoe, au eo and nhay sap.
Visitors will have the chance to join the artisans and local people to perform dances, songs and folk games.
In addition, ethnic minority groups will together reproduce their typical songs and dances as well as introduce different types of traditional food.
The unique dishes are meticulously cooked from natural ingredients, such as colourful sticky rice dishes, steamed pork, grilled chicken, smoked buffalo meat and sour bamboo shoots.
Visitors will also have the chance to improve their knowledge about ethnic culture by participating in ethnic groups' performances at the village, using traditional musical instruments and practising handicraft production. VNS