In the past children's songs were simple, fun and easy to learn. And more importantly, they were about topics children understood. As well as providing entertainment, the main point was education.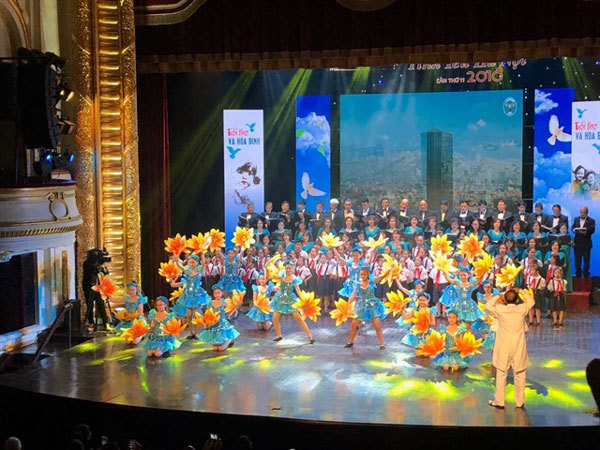 Experts believe there are not enough new songs for children and instead youngsters are opting for adult songs which are beyong their tender years. — Photo thethaovanhoa.vn
Learning is meant to be fun. School days are supposed to be the happiest day of our lives.
But it seems in this modern age there is a problem. Children's songs are just not around anymore. There is nothing new.
Instead of singing about baby ducklings spreading their wings and swimming in ponds, nowadays children are singing about love, break-ups and emotions.
These are songs beyond their years, these are adult songs, and experts are concerned children are losing their innocence simply because there are not enough songs for them to sing.
Vietnamese musician and music researcher Nguyen Quang Long, was a judge at the final round of northern Bac Giang Province's Children Talent Contest in 2019.
Young performers danced and played instruments. They also sang but to his dismay the songs were all themed for adults.
"In many other music competitions which I am following, I have not seen any songs composed for children. In many other singing contests, I mostly see contestants picking up adult songs," he said.
Musician Nguyen Lan Cuong, deputy chairman of Ha Noi Music Association warned that over the past ten years, more and more children sing songs composed for adults, most of which bear contents over love, break ups and broken hearts.
"I would like to take an example," said Cuong.
"There are only six, seven or 14-years-old kids going on stage screaming a song like Trái Cấm Tình Yêu (Forbidden Love Fruit), OK, Ta Chia Tay (OK! We've Done), Không Say Không Về (We Are Not Going Home until We're Both Drunk), Anh Không Yêu Em (I am Not Falling in Love with You)."
In recent years, at many music playgrounds for children like Đồ Rê Mí, The Voice Kids, Future Idol, Junior Amazing Duet, more and more children sing adult content songs, which are not appropriate for them.
Musician Hoang Long adds there are a plenty of musicians writing songs for children, but the quantity overwhelmed the quality.
Deputy chairman of Ha Noi Music Association Nguyen Lan Cuong said music is key in education therefore promoting positive values of music to children is vitally important.
"The period of 1960-90 was a golden age of children songs like Who Loves President Ho as Much as Children Do by Phong Nha, The White-Eye Bird by Hoang Van. I think in order for children music to develop well, there should be the right orientation for children's music, from policy making to composing, popularising, and performing," said Cuong.
He also said Vietnam has many televisions channels not a single one dedicated to children.
Some young musicians have teamed up to create a personal channel for children. After composing 100 songs, young musician Nguyen Van Chung has made a collection including an MP3 disc and illustration for each song. He also has a YouTube channel for children. Pop singer Bong Mai is also building her own channel on YouTube, introducing children songs which are remade to new style for children to sing along to.
As children are the future they need to learn, develop and more importantly enjoy doing so. But they must not lose their innocence and their childhood.
It is after all, the happiest times of their lives.
VNS