Tenor Martin Lattke and soprano Steffi Lehmann from Germany will perform together with the Vietnam National Symphony Orchestra the ninth symphony of Ludwig van Beethoven in a concert scheduled for December 18 and 19.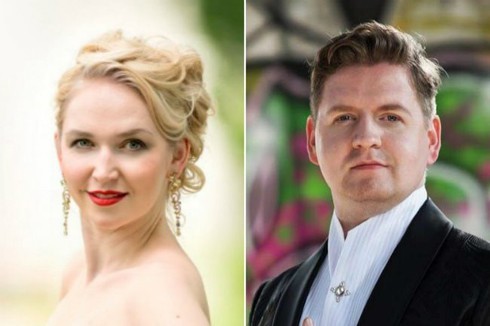 Steffi Lehmann (L) and Martin Lattke are pictured in this combination photo - Photo: Courtesy of organizer
The Goethe-Institut in Hanoi presents this event as an alternative for the annual Christmas concert. It will take place at the Hanoi Opera House, starting at 8 p.m.
The symphony No. 9 in D minor op. 125 is one of the most famous and popular works of classical music. It's Ludwig van Beethoven's last symphony, which he wrote in 1824 when he was deaf.
A prominent feature of this symphony is the final movement: apart from the orchestra there are vocal soloists and a mixed choir. For the first time in a symphony of Beethoven there is human voice featured as an instrument.
Steffi Lehmann studied opera at the University of Music and Drama Felix Mendelssohn Bartholdy in Leipzig. During her studies, the soprano was awarded the first prize at a vocalist competition of the German Mozart Society in 2008 and received a scholarship from the Richard Wagner Society in 2009. Nowadays she frequently performs at leading opera and concert halls at home and abroad.
Martin Lattke is a lyrical tenor and got his first singing lessons at the age of seven. After finishing his studies for industrial engineering, he studied opera at the University of Music and Drama Felix Mendelssohn Bartholdy. He was awarded first prizes at many international competitions and is an expert in interpreting and staging Bach's works. Martin Lattke has performed in over 50 countries around the world.
The Vietnam National Symphony Orchestra is the country' first orchestra. Conducted and led by Honna Tetsuji, it has gained strong reputation. The orchestra has started a series of concerts to honor Beethoven, spanning from 2019 until 2020, which marks the 250th birth anniversary of the German composer. SGT