The Vietnamese men's national football team have fallen one place to 97th in the world, according to the latest FIFA rankings released in July.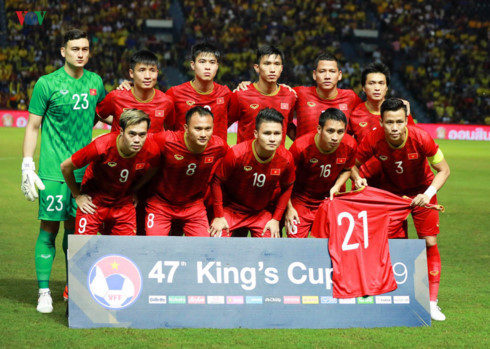 Vietnamese men's national football team
The team has a total of 1,232 points, maintaining their spot as the top team in Southeast Asia and the 15th overall best team in Asia.
Elsewhere, Thailand sit on 1,165 points, climbing one place from 116th to 115th as a result. The Thai team remain 18 places below Vietnam and are ranked as the 20th best team in Asia.
Despite not taking part in any international fixtures, the movements of both teams can be attributed to results in other international tournaments, including the Gold Cup 2019.
Myanmar made the biggest gains in the Southeast Asian region, moving from 138th place to 135th place. Despite this, Myanmar remain below the Philippines who are at 126th, whilst Malaysia sit below them at 159th, Indonesia at 160th, and Singapore at 162nd , who all retained their position in July's rankings.
Despite dropping three places, Iran, ranked at 23rd in the world, remain the top team in Asia, followed by Japan at 33rd, the Republic of Korea at 37th, Australia at 46th, and Qatar at 62nd.
Among the world's top 10, Brazil moved one place from third to second position thanks to their victory at the Copa America 2019. Other teams enjoying a boost after competing in the Copa America, include Uruguay at fifth, Colombia in eighth, and Argentina who are 10th in the rankings.
VOV