The Vietnamese national women's football team have ended the year by being ranked among the five leading teams in Asia, according to the final rankings of the year released by FIFA.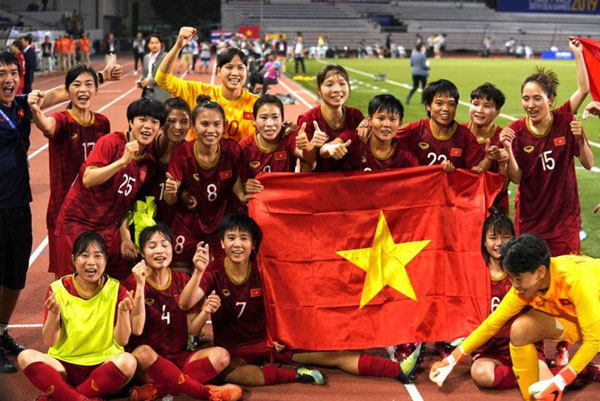 The Vietnamese national women's football team win a gold medal at the 31st Southeast Asian (SEA) Games in the Philippines in 2019.
Despite playing no games throughout the entirety of year, the national team have risen one place to 34th in the world rankings with a total of 1,657 points.
Elsewhere in the region, Australia are the leading the Asian side with 1,963 points, followed by Japan with 1,937 points, China with 1,867 points, and the Republic of Korea with 1,818 points.
Most notably, December's rankings indicate that the women's national team have successfully maintained their position as the best team in Southeast Asia.
Coming in just behind the country in Southeast Asia are Thailand with 1,597 points, whilst the remaining top five teams are made up of Myanmar, the Philippines, and Malaysia.
Topping the rankings are the United States, who maintain their position as world's best team with 2,192 points, followed by Germany with 2,091 points, and France with 2,032 points.
The Vietnamese national women's football team are scheduled to hold a training camp in January, 2021 to prepare for upcoming competitions such as the ASEAN Football Federation (AFF) Women's Championship, in addition to the 31st Southeast Asian (SEA) Games.
Furthermore, the women's national squad will participate in qualification matches for the 2022 Asian Football Confederation (AFC) Women's Asian Cup. This tournament will also serve as the first round of matches in the Asian qualifiers for the 2023 FIFA Women's World Cup.  VOV

The women's national football team of Vietnam remain at the top place in Southeast Asia although they have dropped three places on the FIFA Women's World Rankings for August.