Players of the national women's football team have gathered for a training camp ahead of a busy 2021, which will end with an effort to defend their SEA Games title.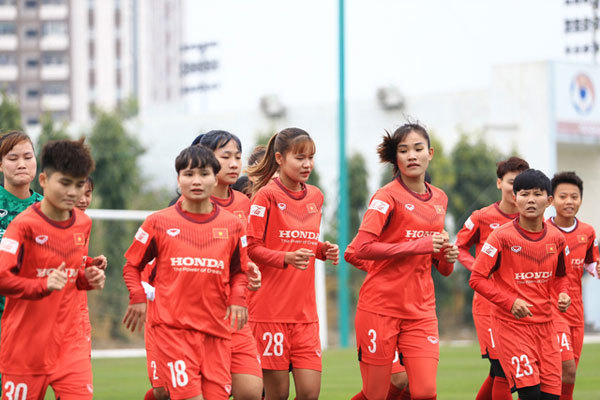 Players warm up on the first day of their one-month training camp in Hanoi. Photo courtesy of VFF
Coach Mai Duc Chung called up 31 players to the Hanoi's Vietnam Young Football Training Centre, with a mixture of experienced and young players.
"We continue our plan of rejuvenating our team and giving young players chances to practice and compete together with their seniors," said Chung who chose some players from the U19 squad and added strikers Nguyen Thi Thuy Hang and Le Hoai Luong as new call-ups.
"Youngsters like Chau Thi Vang and Nguyen Thi Hoa are talented and promising players of junior teams. I hope in this camp, they will learn a lot from seniors. They will unite with striker Ngan Thi Van Su and defender Luong Thi Thu Thuong who also joined the national team from the U19s last year," said Chung.
"They are good but need time to sharpen skills and collect more experience."
The players will train for three weeks before having a match against a team of veteran players near the end of this month.
"Most of my players totally rested for three weeks after the national championship. Just some of them kept doing exercises. It made their physique go down sharply. In this camp, we will work on both technique and physique," Chung said.
"One of our problems is that we could not find a suitable rival to compete with because no club has enough players for a match after their key players go to the national team. We could only set up a match with a veteran male team."
If things go right, Chung and his players will have more training after Tet Lunar New Year holidays and an abroad training course for intensive improvement.
Vietnam will compete at the ASEAN Women's Football Championship with time to be confirmed later and the 31st SEA Games in November where they are both reigning champions, as well as the Asian Women's Football Championship qualifiers in September.
"Our most important goal is the SEA Games title and we need time to prepare well. It is the reason why we start our training just days after New Year's Eve. Our young players need to be ready for big goals," said Chung, adding that he was pleased with the work of the players after the first three days.
"I feel good with their spirit and attitude. All of them, especially the youngsters, are really excited to face and conquer challenges." VNS

The Vietnamese national women's football team have ended the year by being ranked among the five leading teams in Asia, according to the final rankings of the year released by FIFA.