The Lunet Art Development and Sponsorship Centre, a non-profit social organisation, was officially launched on Tuesday with the aim to promote art development and preserve the cultural characteristics of Vietnam.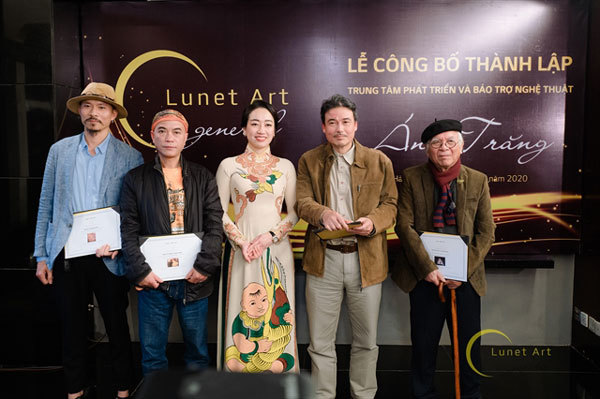 From right to left sculptor Ta Quang Bao; Nguyen Huy Hoang; Lunet Phan; Tran Tuan Long and Pham Van Nghia at the launching ceremony. Photo courtesy of Lunet Art
"We will use all the profits to invest in art development instead of distributing to the centre's founders and executives," the centre's art director Luneta Phan said at the launching ceremony in Hanoi.
The centre will take part in two main activities of annual awarding and honouring artists. The annual award entitled Bright Moon Fine Arts Talent will support artistic talents.
It will honour veteran artists for their lifetime contribution to Vietnamese fine art.
The centre last year held successfully two exhibitions about lacquer painting and sculpture.
The lacquer exhibition displayed nearly 40 lacquer paintings by four artists Trinh Huy Hoang, Nguyen Quoc Huy, Trinh Quoc Chien and Tran Tuan Long who are ASEAN award-winners.
The sculpture exhibition presented works by master Ta Quang Bao. He won the Ho Chi Minh Prize and the State Award for literature and arts. His monuments can be found in 20 provinces and cities around the country.
At the launch ceremony, Bao was one of four artists including Nguyen Huy Hoang; Pham Van Nghia and Tran Tuan Long presenting their works to the centre.
"The centre is a good sign for Vietnamese art development," said Luong Xuan Doan, chairman of the Vietnam Fine Arts' Association at the ceremony.
"This is a great effort by the centre's founders. I think it is very tough to run the centre because it doesn't just introduce new artworks and artists, but it also designs a development strategy," said Doan.
Doan also promises that his association will co-operate with the centre for Vietnamese development.
The centre will host four exhibitions in March, May, August and December of this year. — VNS

Hanoi Creative City is the largest creative complex in Hanoi. Launched in September 2015, it brings together organisations, businesses, individuals, products and services as well as creative activities.

Pham Ngoc, a reporter from Lao Động Cuối Tuần (Weekend Labour) interviews musician Kim Ngoc, director of Đom Đóm — the Hub for Experimental Art & Music, which is helping run the Future of Tradition project on traditional and contemporary art.