A play has just been staged with the unique combination of four traditional vocal arts, including cải lương (renovated opera), chèo (traditional opera), xẩm (singing by blind busker) and Hue's hát văn (folk ceremonial singing of Hue).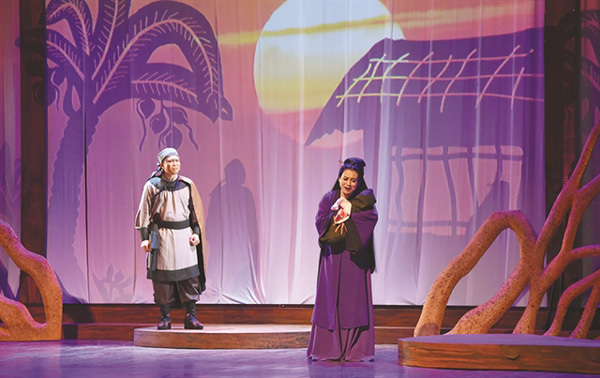 A scene from play Ngàn Năm Mây Trắng, which combines four traditional vocal art forms. Photo vov.vn
Titled Ngàn Năm Mây Trắng (Thousand-Year Cloud), the play was written by Prof Nguyen The Ky, a member of the Central Party, chairman of the Central Council for Theory, Literature and Arts Criticism. The play tells the story of a loyal wife searching for her husband, who left for battle and never returned home.
The inspiration for the play comes from the folk legend of To Thi, who was turned into stone while waiting for her husband to return home.
The stone used to be located on a mountain in Dong Dang Town, in the northern province of Lang Son. It collapsed in 1991 as a result of illegal mining and was replaced with a statue.
There have been many other statues in localities throughout the country, like Ba mountain in the central province of Binh Dinh, M'drak mountain in the central highlands province of Dak Lak, Nhoi Mountain in the central province of Thanh Hoa and by Khe Giai River, Cơ Lêc Village in central province of Nghe An. The image of the waiting wife has appeared in many works of Vietnamese literature.
"During the country's history, there have been many of these stones," Ky said. "They are wives waiting for their husbands to return home from battle."
The image is a symbol of loyalty and humanity that is very moving, he said.
"We don't expect the play to be a representative work for contemporary theatre discussing various issues of life," he said. "We just want to say that besides the beauty, the good, the ugly and the bad still exist."
"We just want to stage a work that embraces various traditional vocal art forms," he said.
Vocal art forms
The play lasts for 90 minutes and includes 60 artists from the Viet Nam Cai Luong (Renovated Opera) Theatre, Viet Nam Cheo (Traditional Opera) Theatre and the Radio Voice of Viet Nam Theatre's Traditional Orchestra.
The main characters are played by talented performers of various theatrical art forms like Meritorious artists Thu Trang, Van Chuong, Minh Phuong and artists Quang Khai, Tuan Thanh and Tat Dung.
The play is divided into various parts telling To Thi's journey to search for her husband together with her small baby. Each of the spaces is reflected with separate art forms like renovated opera, traditional opera, singing of wandering buskers and ceremonial singing.
"After being invited to stage the play, myself and artist Thanh Ngoan immediately discussed a way to stage an opera using melodies of traditional vocal arts," said People's Artist Trieu Trung Kien, director of the play.
Kien worked with painter Hong Van to apply images of revolving lanterns [đèn kéo quân] to express the passage of time during the play.
Kien said the team applied Eastern theatre methods of letting the characters tell their stories.
"The highlight of the play is praising brave soldiers, who sacrificed themselves to protect the country," he said. "The play also appreciates the loyalty and humanity of Vietnamese women."
Meritorious Quang Khai, who plays the role of Truong Lo, a brother of To Thi's husband, said he could not image traditional vocal art forms would combine so smoothly.
"There seems to be no barrier among artists of vocal art forms when they perform on the same stage," he said.
Meritorious Artist Thu Trang, who plays the role of Tô Thị, said she just finished a song of renovated opera and Meritorious Van Chuong followed with another song of traditional opera.
"It sounds good," she said. "Melodies of folk arts are unique when they mix and complement one another."
Audience member Tran Hoai said he was lost in the images created on stage.
Hoai also appreciated the folk musicians, who do not appear on stage but have contributed to the success of the play.
However, he suggested a longer ending scene when To Thi is turned to stone.
"If the scene lasted several minutes longer with lights and sounds, it will be an impressive highlight," he said
The play, which was staged as a cultural work commemorating the 74th anniversary of the Radio Voice of Viet Nam (VOV) and 70th anniversary of the VOVs Theatre, will be performed regularly at the theatre, the Ha Noi Opera House and broadcast on the VOV's radio and television channels and some other provincial radio and television channels.
VNS