A book on the history and geography of Vietnam compiled by researcher Nguyen Dinh Dau has just been released to celebrate his 100th birthday.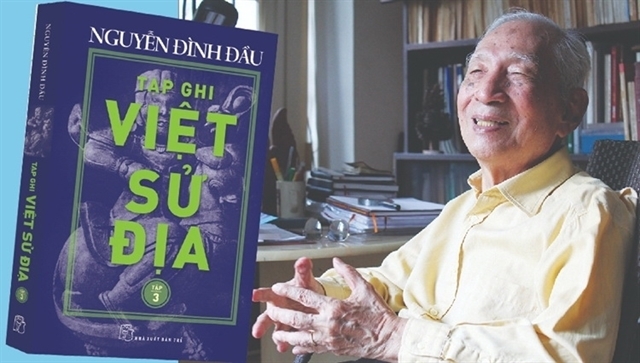 Researcher Nguyễn Đình Đầu presents the third part of his book series Tạp Ghi Sử Địa Việt (Records on History and Geography of Việt Nam) to celebrate his 100th birthday. Photo courtesy of Trẻ (Youth) Publishing House
The third part of his book, Tạp Ghi Sử Địa Việt (Records on History and Geography of Việt Nam), consists of historical events and characters as well as geographical documents from the 20th century which Đầu collected for several years. They had not been released to the public.
The 232-page book includes his articles about Sài Gòn, now Hồ Chí Minh City.
The writer also includes articles on Việt Nam's sovereignty over the Hoàng Sa (Paracel) and Trường Sa (Spratly) archipelagos.
Born in 1920 in Hà Nội, Đầu graduated from the Bách Nghệ (Polytechnic) School in 1941 and Sorbonne University in Paris in 1953.
He returned to HCM City in 1955 and became a teacher of history and geography at the Nguyễn Bá Tòng High School (now Bùi Thị Xuân High School).
In 1960, he focused on research on the history and geography of Việt Nam, and published several articles in local newspaper and magazine.
Đầu released several books, including the first and second part of Tạp Ghi Sử Địa, in 2016 and 2019, and Việt Nam Quốc Hiệu và Cương Vực – Hoàng Sa, Trường Sa (Việt Nam's Official Names and Territories – Hoàng Sa, Trường Sa) in 2013
He won the Trần Văn Giàu Prize in 2005 and Phan Châu Trinh prize in 2008, the country's prestigious awards for research works in different fields such as history, geography and culture.
The third part of Tạp Ghi Sử Địa Việt was published by the Trẻ (Youth) Publishing House.
The publication is among 180 new book titles by Vietnamese and international authors in different fields which have been released this month as part of "Tháng 3 Sách Trẻ" (March Youth Book) programme initiated by Trẻ Publishing House in 2012.
The highlights include different book series on President Hồ Chí Minh, the Communist Party of Việt Nam, and Việt Nam's islands.
Short-story collections from local authors like Ma Bùn, Lưu Manh Và Những Câu Chuyện Khác (Mud Ghost, Gangster and Other Stories) by Nguyễn Trí and Đoản Khúc Chiều Phù Du (Short Stories about Life) by Vũ Văn Song Toàn are also featured.
The Vietnamese translation of young adult novels The Thing About Luck by Cynthia Kadohata, and An Abundance of Katherines by John Green will be presented this month as well.
Several book titles for children on living skills and science and technology have been released during the event.
Nguyễn Minh Nhựt, director of the publishing house, said the Trẻ Publishing House worked diligently for a year to introduce more quality books by both Vietnamese and international authors to readers, especially books by young Vietnamese writers.
The publisher has also released 400 reprinted editions of famous local and foreign writers on the occasion, he said.
As part of the programme, the publishing house will also offer a 10 – 20 per cent discount on all its published titles at bookstores nationwide. VNS

Prof Ha Huy Khoai, a famous mathematician and educator, believes that students should learn with e-textbooks because of the open access to many people.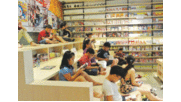 Despite their small space, independent bookshops have still been attractive with their olde-worlde charm and their suggestion of a life where there's time to potter among the shelves.