To commemorate 200 years of death of Emperor Gia Long in the Lunar calendar, Hue Monuments Conservation Centre held the opening ceremony of an exhibition on Emperor Gia Long at Long An Palace, Hue Royal Antiquities Museum.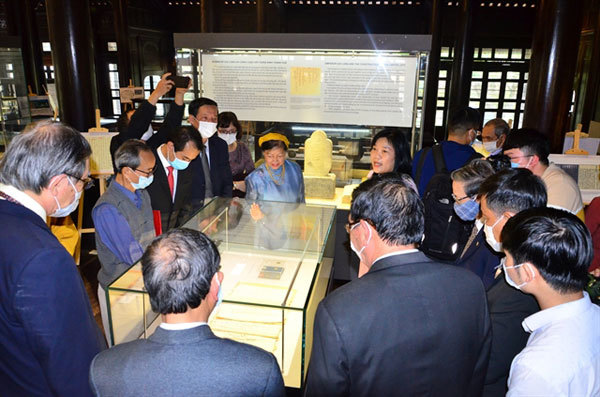 Visitors at the exhibition's opening ceremony. - Photo: Facebook Hue Royal Antiquities Museum
The exhibition on Emperor Gia Long introduces to the greater public an overview of his background, career, contributions as the first king of the Nguyen Dynasty focusing on construction and protection of the nation through antiquities, documents and images. A part of the exhibition introduces values of ecological landscapes in the mausoleums of the Emperor and other members of the Royal Family. 
Emperor Gia Long's real name was Nguyen Phuoc Anh and he lived from February 8, 1762 to February 3, 1820. He was the third son of Prince Nguyen Phuoc Luan and Nguyen Thi Hoan. Emperor Gia Long founded the Nguyen Dynasty and was credited with uniting the nation's territory, giving Vietnam the official country's name, consolidating machineries from central to local areas, and setting the foundation for the economic, legal, cultural and social development through many activities and specific policies. Under his dynasty, he continued to establish Vietnam's sovereignty on Hoang Sa and Truong Sa archipelago. 
The exhibition at Long An palace opens the public to new knowledge on the first king of the Nguyen Dynasty.
On the same day, at The To Mieu, an ancestral temple to Vietnam's emperors in the Imperial City, Hue, Managing board Nguyen Phuc Toc celebrated 200 years of the death of Emperor Gia Long. 
The exhibition will end after the Lunar New Year (February 14, 2021).  VNS

Despite being located the farthest from the ancient imperial city, Gia Long shrine, which is the resting place of the first emperor of the Nguyen Feudal Dynasty, is the perfect combination of architecture and nature as well as a beautiful picture.

The Hue Museum of Royal Antiquities displays more than 40 artefacts relating to Emperor Gia Long of the Nguyen Dynasty, including muskets and royal seals.