The Đất Võ Water Puppet Troupe of Quy Nhon City, Bình Định Province is offering performances of new, quality shows for people living in remote or rural areas who have limited entertainment choices.
Measures needed to preserve and promote traditional art form
Binh Dinh martial arts performed by hundreds of foreigners
Top destinations for a relaxing break in Quy Nhon
Beautiful, relaxing destinations in Binh Dinh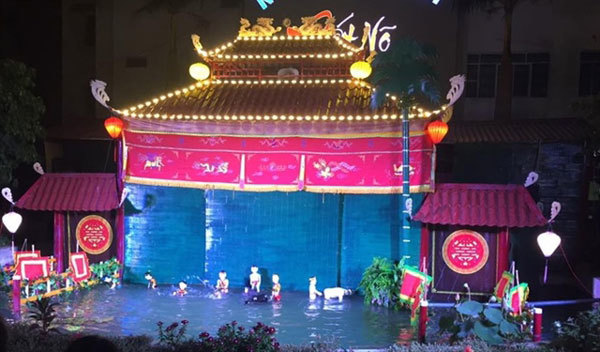 The Đất Võ Water Puppet Troupe is offering new, quality performances for residents and visitors. — Photo from the troupe's Facebook page
The performances combine the traditional genres of circus and puppetry as well as traditional music.
Highlighted shows include two- and three-act plays based on traditional legends, including Tễu ( Uncle Tễu) and Đánh Cá Trên Sông (Fishing on the River).
Folk dances, called kim liên tài tử (lotus dance), will also be featured.
The troupe's artists are staging stories based on the province's traditional legends and customs.
"Our shows with traditional songs feature the culture of Binh Dinh and reflect local farmers' daily lives," a representative of the troupe said. "Our art is so popular that ticket buyers have had to stand in long lines at the box office."
The troupe began its business last month and now offers three shows per year. Each 45-minute show includes 20 puppet artists and music players.
Veteran artists will talk about Vietnamese water puppetry and puppet sculpture after every show.
The troupe's leaders have also worked with local and foreign tourist agencies to introduce their art to visitors.
They have also co-operated with many schools in the region to offer free shows for students this summer.
New shows will include Múa Rồng (Dragon Dances) and Võ Cổ Truyền Bình Định (Traditional Martial Arts of Binh Dinh).
These works will be staged with sound and light effects to appeal to young audiences.
Last month, the troupe's actors travelled throughout Binh Dinh and neighbouring provinces, performing in front of more than 5,000 people.
VNS