Vietnamese contestant Ngoc Thao's national costume got into the top 10 of the most beautiful ethnic costumes at Miss Grand International 2020 pageant and will compete for the top 3 on the final night on March 27, in Bangkok, Thailand.
On the evening of March 24, the second runner-up of Miss Vietnam 2020 Ngoc Thao stood out in the national costume show. The Vietnamese representative wore sparkling outfit that weighs nearly 30kg, including the headdress, boot, bodysuit and the arm's fringe.
On March 26, the organizing board announced the top 10 national costumes. The list included the 5 costumes voted by the audience - Cambodia, Indonesia, the Philippines, Guatemala, Ecuador - and the five costumes voted by the jury, including Japan, Thailand, Vietnam, Malaysia, Panama.
The organizers said the poll will open from 12am on March 26, 2021 to 14:00 on March 27, 2021 to find out the top three national costumes.
Inspired by the art of bonsai, the national costume worn by Thao, designed by Tin Thai, is named "Jade Leaves, Golden Branches" (an implication for a noble young girl). The costume was not only a symbol of the royal life of the Nguyen Dynasty – Vietnam's latest feudal dynasty - but also is associated with the meaning of the name Ngoc Thao. The costume combined traditional cultural identity and modern elements.
Designer Tin Thai told VietNamNet that it is a success for him as Ngoc Thao's costume is voted one of the most beautiful national costumes. The outfit helped show off Thao's beauty and helped her shine at the contest.
Designer Tin Thai said that the costume was 100% handmade, with 3,200 golden leaves, 896 crystal flowers and thousands of mirror pieces. Tin Thai and his team worked five days and nights to complete the costumes.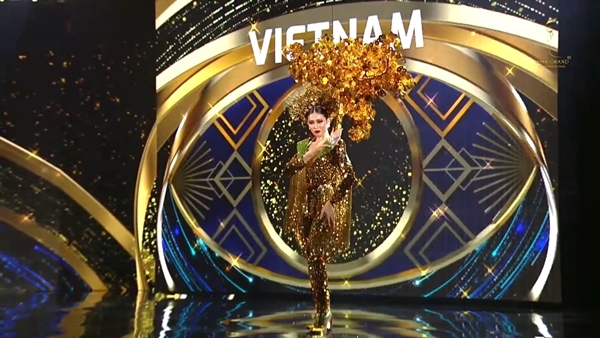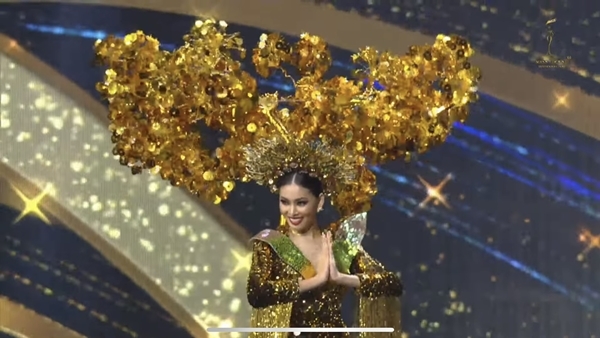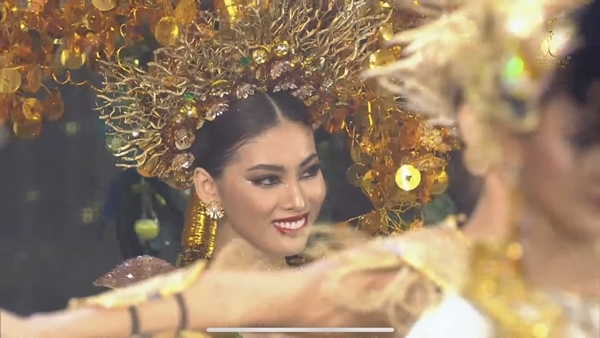 Le Thao

In a costume weighing up to 30kg, Vietnamese representative Ngoc Thao looked outstanding among 63 competitors in the national costume competition at the Miss Grand International pageant, held on the evening of March 24.