Born in the US to Vietnamese parents, Nguyễn competed for the national swimming team at the SEA Games in Malaysia two years ago for the first time and grabbed four bronze medals.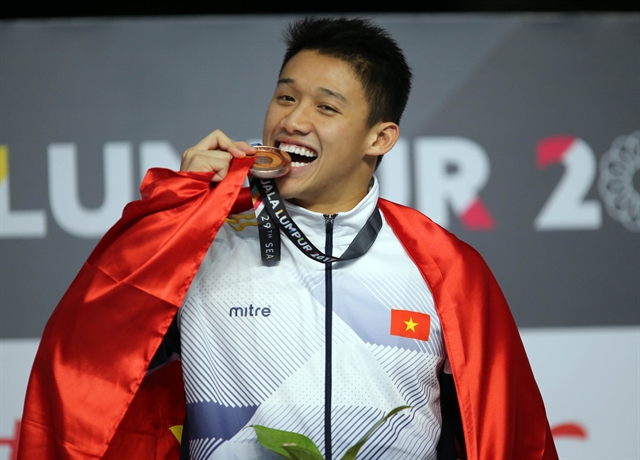 Paul Lê Nguyễn seen at the SEA Games two years ago. He is now training hard in the US for the target of hunting gold medal at the upcoming Games. — Photo nld.com.vn
Paul Lê Nguyễn, an overseas Vietnamese swimmer, is aiming for a new colour of medal at the upcoming Southeast Asian (SEA) Games in the Philippines.
"My goal is to win more medals for Việt Nam and make everyone proud of Việt Nam. Getting a gold medal is my most important goal for the country," Nguyễn told Việt Nam News.
Born in the US to Vietnamese parents, Nguyễn competed for the national swimming team at the SEA Games in Malaysia two years ago for the first time and grabbed bronze medals in the men's 50m backstroke, 50m butterfly, 200m medley and 50m freestyle.
"I won four bronze medals for Việt Nam and I was very happy. But when I went back to America to study, I was not happy. Bronze medals were not enough, I wanted to swim faster and get better medal. Too much bronze but not enough gold medals," said Nguyễn.
Currently, Paul is training for the Games at North Carolina State University with the American coach, Braden Holloway.
"Holloway is my new American coach that is making me train a lot harder than I have before," said Nguyễn.
"I am now training all of the strokes (butterfly, backstroke, breaststroke and freestyle). I used to only train for backstroke," Nguyễn added.
In the Philippines later this year, Nguyễn will seek gold medals in the men's 50 butterfly, 100m butterfly, 50m backstroke, 100m backstroke, 50m breaststroke, 50m freestyle, and 200m individual medley.
According to Nguyễn, his task will be tough as he will meet strong rivals in the events in short distance, especially from Singapore such as Joseph Schooling who won six gold medals at the Games 2017.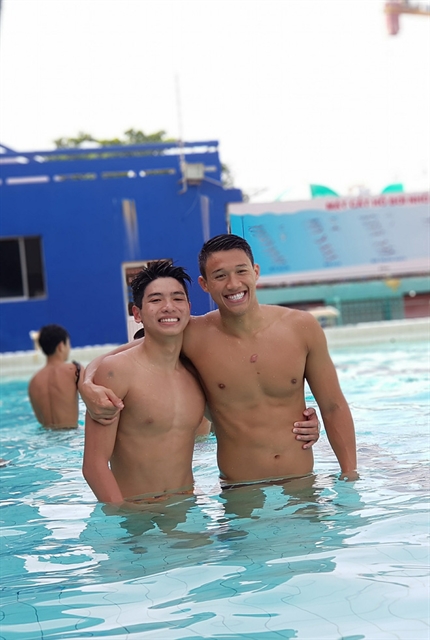 Paul Lê Nguyễn and young talent Nguyễn Hữu Kim Sơn (left)seen in training. — Photo soha.vn
Desire to wear national jersey
Born in 1992 in Oklahoma, Nguyễn began training for swimming at the age of eight. He also performed well both tennis and gymnastics and was a familiar face at school competitions in Oklahoma.
Now he is studying for a master's degree in business at Missouri State University, a school he's attending on scholarship thanks to swimming. He ranks in the top 15 in the backstroke of the amateur swimming championships held by the US National Collegiate Athletic Association (NCAA).
Nguyễn's participation in the national swimming team came by chance four years ago, after he met Đặng Anh Tuấn, coach of Việt Nam's female star swimmer Nguyễn Thị Ánh Viên, at a swimming competition in the US in 2015.
Then Nguyễn wrote an email to Tuấn asking for an opportunity to join the Vietnamese team.
"I was interested in swimming for Việt Nam since I was very young. I just didn't know who to help me with swimming for Việt Nam until I was lucky enough to meet Tuấn," Nguyễn said.
Nguyễn's request was quickly approved by Vietnamese sports officials, and he was granted citizenship in 2015. He returned to compete for An Giang Province and brought his team seven golds, two silvers and broke two national records at the National Swimming Championship in 2016.
In 2017, he was called up to the national team for the SEA Games.
"I joined the national swimming team because my father and mother were born in Mũi Né and Qui Nhơn. I want to represent the country that I carry in my blood," said Nguyễn.
The 27-year-old swimmer immediately proved to be one of Việt Nam's best swimmers with the four bronze medals.
Nguyễn's medal count for the Games was second only to Viên, who brought home eight gold medals and two silvers.
According to Đinh Việt Hùng, general secretary of the Việt Nam Aquatic Sports Association, Nguyễn's four bronze medals was a turning point for Vietnamese sport in selecting overseas Vietnamese athletes to compete.
"It was the first time we had an overseas Vietnamese swimmer take a medal in the region's biggest sport event. That was considered an appeal to call overseas Vietnamese athletes to play for Việt Nam. There are many overseas Vietnamese people in the other fields of the country, but in sport, it is limited," said Hùng.
Hùng expressed his hope that with Nguyễn's efforts, he could make a surprise at the upcoming Games.
To prepare for the event in the Philippines, Nguyễn is taking a break from studying to focus on swimming.
"Right now, I am putting my master's programme for business on break until I am finished with swimming. But for the next few years, I will focus on swimming and getting faster. And I will make Việt Nam proud of me," said Nguyễn. — VNS
Thanh Nga

Drowning among children is a huge concern in many countries. To reduce the risk, Nghe Hai commune, Cua Lo district, Nghe An province has opened swimming classes for children on Lam Giang river.

Vietnamese female swimmer Nguyen Thi Anh Vien bagged a silver medal at the CISM (International Military Sports Council) World Games 2019 in Wuhan, China on October 20.