As Norway's modern artist that has mastered a modern and flexible language of painting, drawing and prints, Henrik Placht has an extremely strong connection with Vietnam and is dreaming big for this beautiful country.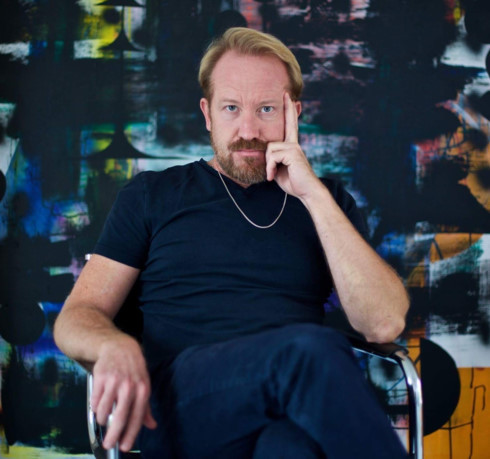 Henrik Placht.
"I want to build a bridge for Vietnamese artists", said Henrik Placht in a recent interview granted to the Norwegian Embassy in Hanoi.
Following is the gist of the interview:
You have been doing the painting job for 20 years. What have been your inspirations?
People keep taking about the breath-taking beauty of the nature in Norway, its water falls, fjords, northern lights and so on. Indeed, Norway is powered by nature. However, to me, people inspire me most. People are different and special, that is why their stories also diverse.
This is one of the main reasons I travel a lot to meet new people and try to understand them, their different ways of living and thinking depending on where we are and what the place and time we find ourselves in. Nature and cities, the two opposite things also inspire me. The anti-nature with city structures and culture and the refinement of a country's inner soul and history is always a blessing and privilege to learn about. Food and music are also extremely important.
How has your style changed over time to be what it is today?
As I have created many works and developed myself through so many years, I am more confident and my paintings are more flexible now. I´m not scared of doing something crazy with them or even destroy them sometimes, and I´m very secured in what I do.
The themes of my paintings vary. Some can tell a love story, which is always long not short. Others tell the viewers and audience about my own stories or what has happened in my life. Paiting is an open chess game between me and the painting itself, I let things happen as I go along.
It is very important for me that my paintings are connected to the times we live and they discuss the current themes such as politics, global warming, science, history and interrelations between us – humans. I want the stories told by my paintings to be able to entertain people for a long time and that is why I set very high standards for myself. My paintings have to first please my eyes.
You have been visiting many countries including some several Asian countries. What brought you to Vietnam?
I was very curious about Vietnam because my grandfather used to work here during the 60s. It was during the wartime, and he visited Vietnam very often to provide aid and assistance from Norway mostly medical supplies to Vietnam. He also established a Norway-Vietnam committee. He was so in love with Vietnam until the last days of his life.
I first came to Vietnam in 2017 and fell in love with your country immediately in all kinds of way like my grandfather did. I remember when I first landed in Ho Chi Minh City I felt so home. I never felt like that before when just landing in a place.
I have been travelling to different cities in Vietnam for the last two years. The more I travel, the more I love the country, its warm, kind, and sweet people, the atmosphere, the nature, the food. Above all is your rich culture and long history. I am also lucky to have met many strong and proud people that inspire me a lot.
You have been teaching arts in Vietnam. How do you see the way Vietnamese students learn arts?
I've been giving lectures in the Department of Fine Art of Saigon University. What a privilege to work with young Vietnamese students. They are talented, smart and clever. They are ready and hungry for knowledge and information and they want it now.
Art education in Norway follows the European style, which is very modern and contemporary. Meanwhile, Vietnam has a more traditional approach to art education. Given its identity, it is a little bit outdated. However, I believe the educational system here has a big potential of adapting and change to the modern age and to develop your art scene into a contemporary and international one. There is big hope for Vietnam but there is a huge job that needs to be done.
The future of Vietnamese arts depends on the current students. That is why I try to inspire my students to work hard, follow their passions, and do what they feel like. Everything is possible, never let anyone tell you what you can do or not. If you have a dream, follow it. You will realize it if you really want to.
What is your future plan in Vietnam?
I have many plans for myself, for my students and also for the Vietnamese fine arts.
I currently do not yet live in Vietnam. This is my sixth time in Vietnam for the last two years but I really hope I can live on permanent basis here in the future. I feel great and easy working here. I have made my best watercolors and sketches in Vietnam.
I also have a plan for my solo painting show in Ho Chi Minh City very soon. I´m already in contact with some people for this. All I have to do now is to produce and find the right place and time. This show is something I would want to dedicate to Ho Chi Minh City and its people. I want to give something more to the Saigon people so I´ll arrange workshops, small talks and other fun things that we can share and get to know each other. My first talk show will be held on 7 May at Salon Saigon.
I would also be interested in building a bridge for Vietnamese students to go abroad and study. I will work with my network in Europe to get scholarships or develop exchange programs for local artists to go and get education in Europe. I find lots of fun to collaborate and work with the talented Vietnamese artists.
I also have a long-term ambitious dream to fill the Hanoi Museum with art in the future. I have read and heard a lot about the Museum being left empty for the 10 years. It is such a great pity. People need and deserve art exhibitions. Museums should and have to be filled with arts. Of course this cannot be done overnight, but it is time we should do something about it. There is a huge work ahead to do but once there is a will, there is a way.
I believe my grandfather would be happy and proud of what his grandson has and will do to continue his Vietnam story.
Thank you very much.
VOV/ Norwegian Embassy