Culture ministry officials have decided that Bui Chu Church in the northern province of Nam Dinh is seriously downgraded and is not safe for use.
Architects protest tearing down old church
10 beautiful churches in Nam Dinh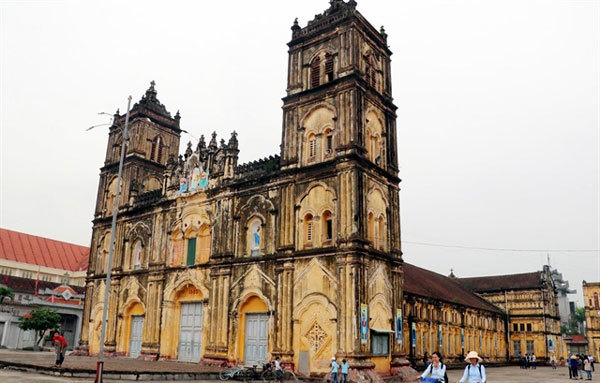 Bui Chu Church in the northern province of Nam Dinh.
The report was made after officials from Ministry of Culture, Sports and Tourism led by deputy Minister Le Quang Tung visited the church on Tuesday.
The delegation examined the interior and exterior areas of the church and talked to local Christians and local authorities.
The report has been sent to Minister of Culture, Sports and Tourism Nguyen Ngoc Thien, who will make a final decision on any restoration work soon.
Tran Dinh Thanh, deputy director of the ministry's Culture Heritage Department, said there are many cracks and damages at the entrance area, arches on both sides and surrounding walls, while the tower on the left is inclined.
"The interior furniture has degraded and wooden parts are rotten, which may fall down while various religious activities are still taking place inside the church," he said.
"It's necessary to secure safety for the church as well as the community using it," he said.
On a controversial draft plan to tear down and rebuild the church, Thanh said the area and form of the architecture will be the same while many parts of the old building will be kept in the new church.
Officials said minister Thien will soon assign the ministry's Relics Preservation Institute to examine the building's situation and propose solutions to him.
Last week, 20 architects sent a petition to Thien asking him to renovate the old church rather than building a totally new one.
On May 3, the Save Heritage Vietnam group also sent a letter to Pope Francis asking for support to save the church. The group members expressed their willingness to go to Rome to meet the Pope and hope the Pope will visit the old church.
Noted architect Hoang Dao Kinh said he wanted the church to be renovated in a careful and scientific way to preserve the most valuable parts rather than being completely destroyed like Tra Co Church in Mong Cai City, the northern province of Quang Ninh, in 2017.
"I care much for the metal decoration patterns on the church's windows," said researcher Tran Hau Yen The. "They date back 135 years ago, the oldest of their kind in Vietnam, even older than many buildings in Hanoi."
"If the renovation process doesn't follow strictly to the old form, the metal decorations may no longer be suitable and be taken out," he said.
The also expressed concerns over the gold gilded wooden decorations inside the church.
"The high quality wood carving details can't be easily imitated by today's artisans," he said.
He mentioned Cua Bac Church in Hanoi as a successful renovation project.
"Though it is painted new, the renovators used original materials and kept the old architecture," he said.
Bui Chu Church, located in Xuan Ngoc Commune, Xuan Truong District, Nam Dinh Province, was built in the late 19th century by Spanish Bishop Wenceslao Onate Thuan.
The church was inaugurated in 1885 and renovated twice in 1974 and 2000.
Tourism potential
While architects and culture experts see Bui Chu Church as heritage in need of preservation, tourism firms see potential earnings.
"Old churches and pagodas are always good materials for tourism," said Nguyen Tien Dat, deputy director of TransViet.
"No matter if they have been recognised as cultural heritage or not, the architectures themselves are luring destinations."
Thus, Dat proposed preservingd Bui Chu Church and other old buildings with artful values for tourism.
"I hope they keep the old building and renovate it rather than building a new one," said Bui Thi Nhan, executive director of Ecohost, the only travel agency specialising in tours to Nam Dinh.
"The church has not only Baroque style architecture but also an Eden Garden and a spacious area for studying and experiencing Catholicism.
"Since the news about tearing down Bui Chu Church to build a new one came out, many people have visited the site," she said.
There are other beautiful old churches in the province, which can be combined in a tour, she said.
Tours can also link to other traditional handicraft villages like Co Chat Village with its silk handicraft and Pham Phao Village making bronze clarinets.
Nhan said the province has yet to reach its tourism potential.
"It can totally link with already popular destinations like Ha Long Bay [in Quang Ninh Province] and Ninh Binh Province," she said.
VNS