Folk paintings printed on do (poonah) paper and how the paper is made will be introduced through the programme Vietnamese Poohnah Paper – Past and Present.
Poonah paper – a spiritual connection on the verge of oblivion
Poonah paper of the Cao Lan in Bac Giang
Artist wants to preserve poonah paper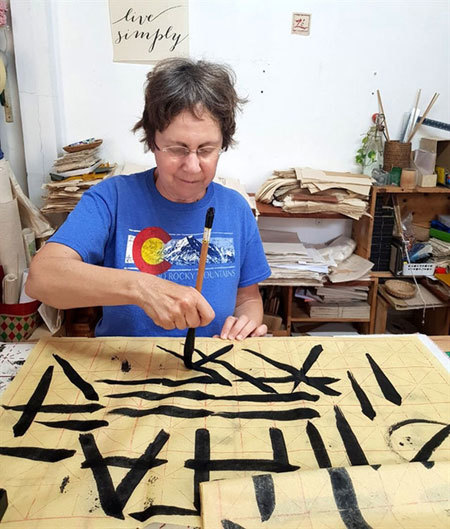 Tourists will have a chance to learn how to make do paper. — Photo courtesy of Zó Group
The programme will run from April 24 to May 25 at Kim Ngan Temple, 42-44 Hang Bac Street, Hanoi.
The Old Quarter Management Board has organised the event to give residents and tourists a chance to learn more about poonah paper, products made from the paper, the way they have been made and tools used to make the images.
Many artisans from poonah-making villages and experts will take part in the event.
"Poonah paper is made from tree bark, it looks thin but it's durable," said artisan Cao Ngoc Han.
"Through various steps, a finished piece of paper can last for centuries. That makes it unique in comparison with other types of paper."
"Among various traditional trades of the Vietnamese people, paper-making is an age-old trade and supplies paper for different purposes such as printing folk paintings (Dong Ho and Hang Trong genres), printing books and writing calligraphy."
"This kind of paper was also used to make sắc phong (king's certificates to confer titles on people) during feudal reigns."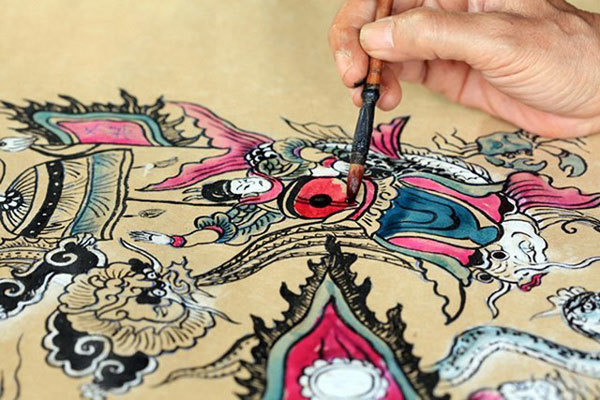 Poohnah paper is used to make Hang Trong folk paintings and other products such as envelopes, artworks and calligraphic works. — Photo baomoi.com

Tran Thi Thuy Lan, vice chairwoman of the Old Quarter Management Board, said the paper has a strong attachment to the life and society of Vietnamese people. It has been the material used to preserve the cultural and historical values for thousands of years.
"More and more artists and painters are using it in their work," Lan said.
"That's why we want to help people learn more about it."
The introduction of poonah paper is one of the cultural activities held to celebrate Liberation Day (April 30) and May Day (May 1).
Exhibitions and fashion shows by Hanoi-based designers will take place from April 27 to May 1 at the mural area on Phung Hung Street. With the theme Quintessence of Vietnamese Crafts, the event will introduce various trades of Hanoi such as silk from Van Phuc Village, conical hats of Chuong Village, fans of Chang Son Village, lacquerware of Ha Thai Village and pottery of Bat Trang Village.
Traditional music will be performed every night in the area.
An exhibition of paintings by Nguyen Quoc Thai will take place at the Ha Noi Old Quarter Cultural Exchange Centre, 50 Dao Duy Tu Street, from April 28 to May 9. With the theme War and Peace, the exhibition displays posters and paintings on historical events, soldiers, people and landscapes.
VNS