Tran Dinh Son will be 24 when the Southeast Asian Games (SEA Games) are held in Hanoi in November and December. Expectations are high that he will celebrate this Year of the Buffalo, his "birth year", with a win in the 400m individual event.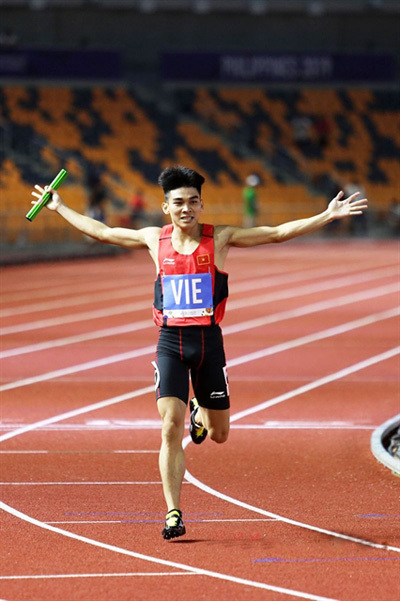 WINNING MENTALITY: Tran Dinh Son celebrates Vietnam picking up gold in the 4x400m mixed relay at the 30th SEA Games in the Philippines. Photo webthethao.vn
Like many other athletes, Son was recruited to Ha Tinh Province's track-and-field team after shining at meets when he was still at high school.
"The coaches gave me the right guidance on following a professional sport when I was just 15," he said. "My family have been really supportive. Without them, I wouldn't be able to fully focus on training and competing."
Since his first call up to the national team in 2014, he has become a key member of a 400m squad that has dominated the regional Games over the last four years.
Son doesn't have the height or physique of his teammates, but his secret weapons are his thunderous sprint and serious attitude on and off the track.
After a hard training session his teammates might post on Facebook or just hang out, but that's not for Son.
He rarely shares anything on social media except for occasional posts about homesickness or how he misses his girlfriend. The quiet young man prefers to work on his running, then rest, and then work again.
"My task now is training and training only," he said. "I don't have time for anything else."
"I have grown a lot since I joined the team. I changed myself and my thinking, to adjust to the new times. I always look back over what I have done and think of how I could do it better."
After three years in the national team, he made his SEA Games debut in Kuala Lumpur in 2017.
The then 20-year-old picked up a silver medal with his teammates in the 4x400m relay, finishing behind Thailand in the final. Their time of 3min 07.40sec remains a national record.
In the same year he won the 400m individual gold at the Malaysia Open and later did likewise at the Thailand Open. A year on, gold came his way at Vietnam's National Sport Games in 2018.
In the last SEA Games in the Philippines, he came second in the 400m individual event after grabbing two golds in the 4x400m men's relay and the 4x400m mixed relay.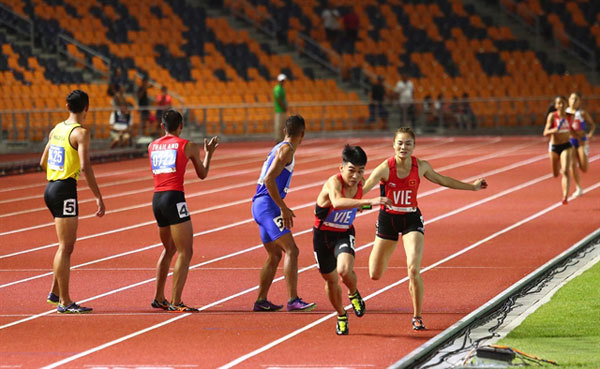 FINAL STRETCH: Tran Dinh Son takes the baton from teammate Quach Thi Lan in the 4x400m mixed relay. Photo ngoisao.net
The 4x400m mixed relay gold remains his most cherished memory, as it was the first time the event, featuring two men and two women, was held at the SEA Games. He was in a "dream team" with Nguyen Thi Hang, Tran Nhat Hoang, and Quach Thi Lan.
According to coach Nguyen Thi Bac, Son has the best training record among the relay team members. He has sometimes faced mental issues in competition, but his sprinting is incredible.
His talent was why he was chosen to run the final leg in the Philippines. Taking the baton from third runner Lan, he made use of the lead the others had established to sprint to the finish line, leaving the nearest opponent nearly 10 seconds behind.
Their time of 3:19.50 was not only a SEA Games record but also helped the team get closer to qualifying for the Tokyo Olympics.
Vietnam is currently No 17 in the world, while the 16 best teams secure Olympic slots.
Son and his male teammates had earlier outpaced Thailand to take gold in the men's 4x400m relay after losing to them in 2017.
"The 30th SEA Games were amazing, but I still regret I didn't win the individual title," he said. "I lost to my teammate Hoang, by just 0.12 seconds." 
Best time to come
"The recent 10-day holiday for the Lunar New Year with the family was a great time for me to relax and restore my energy for what lies ahead." Son will be one of about 50 athletes preparing for the end-of-year SEA Games.
After returning to the National Sports Training Centre post-holiday, he has given all of his attention to training.
"Apart from Sundays, we work hard every day," he explained. "We try to improve our physique, speed, and technique. It takes time, and requires determination.
"There is a lot of pressure on us now. We share the target of gold for our country but have to secure our place first. If we don't perform, we are replaced immediately.
"Every athlete must do their best week-in-week-out. It's a test of endurance. I tell myself to train as though it's a competition, and I hope I'm at my peak for the Games."
He is indeed in good form, after pocketing one gold and one silver at the National Athletics Championship last November.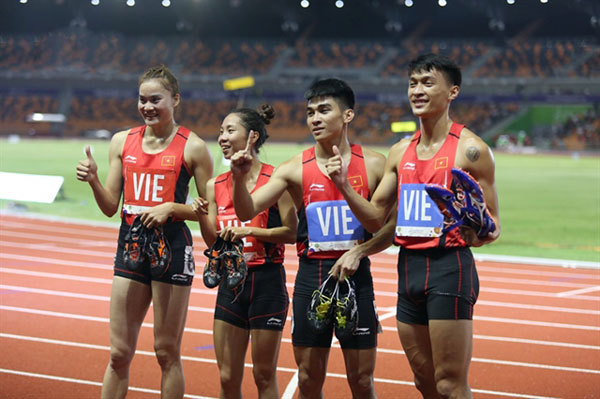 NUMBER 1: Tran Dinh Son (second, right) and his teammates enjoy their win in the 4x400m mixed relay. Photo webthethao.vn
He and his team very much have one eye on the Olympics in the middle of the year. While they will have the opportunity to move up in the rankings prior to June 29, they are more or less in "waiting" mode, because most of the regular meets have been postponed due to COVID-19.
If they were to secure a place at the Olympics, it would be the perfect warm-up for competing in the SEA Games on home soil.
"In the race to the finish line, my family, friends, and coaches are always with me," he said.
"They give me the support I need to push myself and realise my dream of winning three golds in Hanoi, in both the individual and team events. And Olympic qualification too."  VNS

In the last two editions of the Southeast Asian (SEA) Games, Vietnam surpassed Thailand to top the overall track and field medal tally. As the host of the 31st SEA Games this year, it is highly feasible for Vietnam to take the supreme honour