Nguyen Van Hung is a dab hand on the basketball court and in the dojo and has the distinction of being one of few Vietnamese national champions in two sports.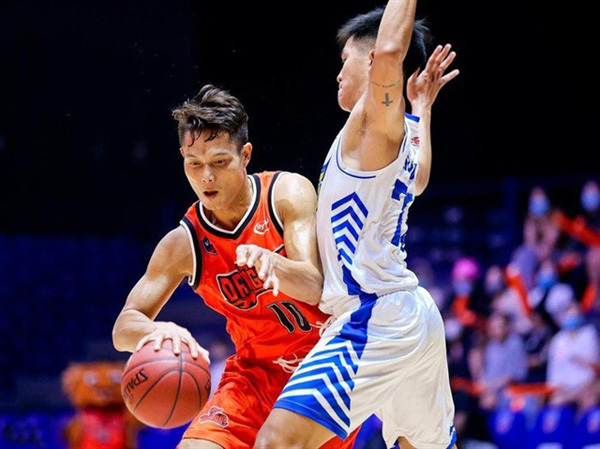 Nguyen Van Hung (left) competes for the Danang Dragons in the VBA 2020 season. Photo zing.vn
At the age of 40, Hung works as a coach for the Thanh Hoa Province and national taekwondo teams and also plays professional basketball in the Vietnam Basketball Association (VBA) league. 
A dream athlete
Born in 1980 in Tinh Gia District in Thanh Hoa, Hung's height set him apart from his peers at a young age.
The 1.8m tall boy was invited to practise with Thanh Hoa's volleyball team when he was 14 in 1994.
However, the team folded months later due to financial issues. Hung, who received offers from swimming and track-and-field teams, agreed to join the taekwondo team.
"With my height and long legs, I was an ideal athlete for any team. I chose taekwondo because it is a martial art from South Korea. You know, in those years we loved everything from this country, from its people to products," Hung said.
"The move was a key point in my career. Practising taekwondo I recognised that it was my breath, my passion, my life. Only people who do martial arts can understand the feeling of winning. It was great when we won. And that feeling pushed me to practice harder for more victory," he said.
Five years after that, Hung made his debut at the 1999 Southeast Asian Games and took gold in the 80kg category.
From that point, he dominated the biennial regional sporting festival until 2007 when he retired from international events.
With five SEA Games golds in a row, a record for the tournament, and his domination at the Southeast Asian taekwondo championship, he was seen as an unbeatable fighter.
"I did not look down on anyone but the SEA Games was small to me," said Hung.
"I always targeted gold because I could win there even I had an injured leg. My rivals knew that. They tried to not compete with me or even withdrew ahead of our matches."
Hung also made his name in continental competition with a silver from the Busan Asian Games in 2002 and one gold at the 2004 Asian championships.
"Talking is easy but it wasn't in reality. I had to practise very hard. I trained three times per day. I had no time for my hobbies, no outings or even dating," said Hung.
"Being champion in SEA Games and in Asia top group were results that I deserved to have. But I failed at the Olympics."
Hung won slots at the Athens and Beijing Olympics in 2004 and 2008 but did not perform well.
"I was an unlucky Olympic competitor. I had a broken arm ahead of Athens and a torn leg ligament prior to Beijing. If not being injured, I could have vied for a berth in the top three," said Hung who advanced to the Beijing Olympics' quarter-finals.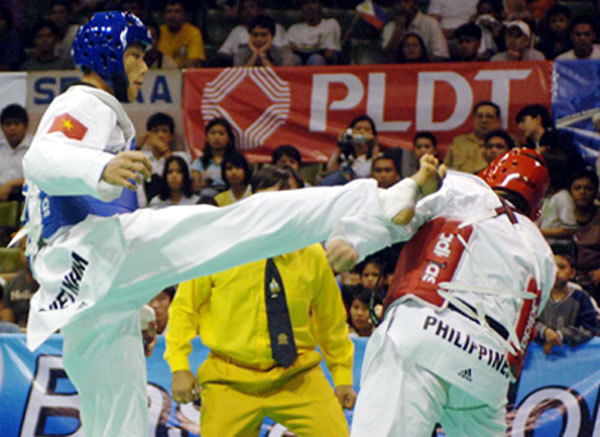 Nguyen Van Hung (left) competes at the 2007 SEA Games. He won his fifth gold medal, setting a record at the tournament. Photo tdtt.gov.vn
Speaking about Hung, Truong Ngoc De, President of Vietnam Taekwondo Federation, said: "He is the most outstanding athlete of Vietnamese taekwondo in all time. Hung is hardworking. He practises twice as much as anyone and has never been tired of learning to improve. These characteristics made him an 'unbeatable fighter'."
Though he retired from martial arts, these days you can find Hung on the basketball court.
The 1.95m-tall athlete first touched the orange ball when he was in a training camp with the taekwondo team in HCM City in 2004.
Three years later he joined Joton HCM City and easily found a berth in the first team. He played a key role in the club's two federation cups in 2010 and 2011 and a national championship trophy in 2014.
The title made him the first Vietnamese athlete to triumph in two different sports, one individual and one team.
Joton folded in 2015 and Hung was signed to play for Saigon Heat, the first professional Vietnamese basketball team, where he was given the captain's armband.
Despite being 36 years old, Hung was a regular face in coach Anthony Garbelotto's squad due to his height, skills and strong physique.
His performances with Saigon Heat in the ASEAN Basketball League in 2016 and then the Thang Long Warriors which won the Vietnam Basketball Association league brought him a national team berth at the 2017 SEA Games.
It was the second time Vietnamese basketball had returned to the regional competition after years of absence. The team finished sixth and Hung was the first Vietnamese to compete in two sports at the SEA Games.
"It looks different in form of competition but to me, the way of training is the same as we have to train both mental and physical strength," said Hung.
Garbelotto said he has never met anyone like Hung. It was normal to see athletes playing different sports but Hung was outstanding in both of his disciplines. His professional attitude in training and competing activities made him a good player.
This year, Hung played 11 matches for Danang Dragons at the VBA and averages 28.8 minutes, 8.3 points and 7 rebounds per match.
"To me, basketball is passion and taekwondo is a career. I hope I can play both as long as I can," said Hung.
Hung has set made targets for both sports at the 31st SEA Games later this year in Vietnam.
"After times singing the national anthem at the SEA Games. I want to sing it again as the basketball player.
"And my biggest dream is I can coach an athlete who win an Olympic medal in the near future," said Hung. 
Thanh Ha (VNS)

Saigon Heat won 73-54 in game 4 against Thang Long Warriors on Tuesday night, becoming the first team in the league to successfully defend its championship.