Vietnamese singers are being featured in a YouTube show which reminds people of beautiful memories of their youth.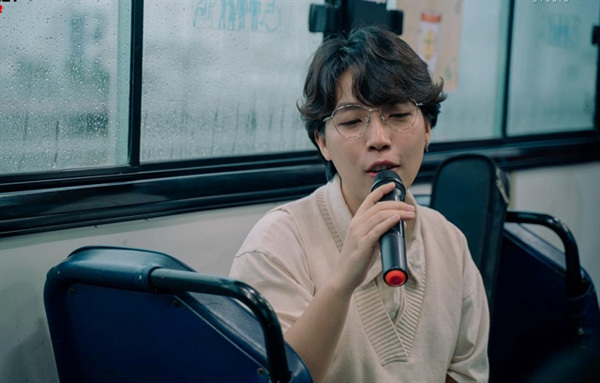 Singer and songwriter Kai Dinh performs his own song Chuyện Nhà Bé Thôi, Con Đừng Về (Just Family Stuff, You Don't Need to Come Home) on a bus trip. Photo courtesy of the producer
The show called Eye Contact Live features street performances of singers Anh Tu, Hoa Minzy and Van Mai Huong, and songwriters Bui Cong Nam, Hua Kim Tuyen and Kai Dinh.
During the show, the artists cover favourite Vietnamese songs from the 1990s and 2000s, such as Ta Chẳng Còn Ai (No One Beside), Thà Làm Hạt Mưa Bay (I Love Being a Raindrop), and Tình Yêu Mang Theo (Fading Love).
The performances of their own songs featuring love, youth and family have also caught viewers' attention.
The songs include Lý Do Nào Để Yêu Em (The Reason Why I Love You) by Bui Cong Nam, Ta Quên Nhau Chưa (Have We Forgotten Each Other) by Hua Kim Tuyen, and Chuyện Nhà Bé Thôi, Con Đừng Về (Just Family Stuff, You Don't Need to Come Home) by Kai Dinh. 
The performances were recorded at familiar spots such as grocery stores and street coffee shops, or during bus trips, that were popular during their youth.
The singers' pretty voices combined with familiar songs and places in the show have left a deep impression on audiences.
Hung Duy, a YouTube user, said the singers and the show's production staff "brought me back to beautiful memories and feelings as I was young".
He said that the show kept artists, music and fan closer than ever.
Eye Contact Live, produced by Forest Studio, premiered on its YouTube Channel on April 15. It now has 11 videos, attracting more than 247 million views.
The show is a sequel of Xuân Hạ Thu Đông Rồi Lại Xuân (Spring, Summer, Autumn, Winter, and Spring again), a TV reality show showcasing street performances of singers from Eye Contact Live.
The 10-episode Xuân Hạ Thu Đông Rồi Lại Xuân was broadcast on HCM City Television (HTV)'s HTV9 channel from January to May, which received a great welcome from TV audiences, especially young people.
Its videos have earned tens of millions of views on YouTube.
Musician Tuyen, 27, from St.319 Entertainment, one of the country's leading entertainment companies, said: "Eye Contact Live is a gift to fans of Xuân Hạ Thu Đông Rồi Lại Xuân.
"We want to send our gratitude to audiences in the country who have always supported us and our products since the beginning," he added. 
Eye Contact Live's new video will premiere at 8pm every Thursday on YouTube.
Source: Vietnam News

The fourth concert of the "Music of the 20th Century" series will be broadcast live via Facebook page of the Goethe Institut Vietnam on June 28, in a bid to prevent the spread of COVID-19, the institute has announced.