Award-winning opera artist Dao To Loan will have her first recital in September at the Viet Nam Academy of Music. It will be a chance for opera lovers to enjoy a performance by one of the leading sopranos in Vietnam.
Hard-working mum wins opera contest
Concert around the world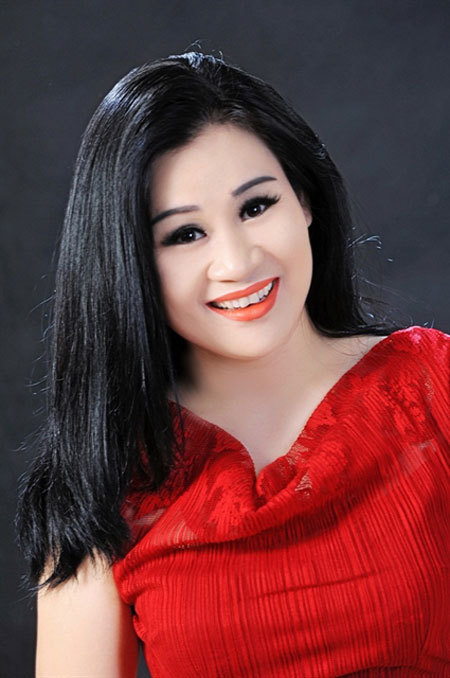 Opera singer Dao To Loan.

Last year, Loan won the top prize at the Singapore Lyric Opera ASEAN Vocal Competition.
Nguyen Thuy Binh interviews her about opera and her upcoming recital.
Could you tell us about your recital in September?
I plan to have my first recital at the Viet Nam National Academy of Music.
I know opera does not have a huge number of listeners. But if I keep worrying about that I don't know when I would ever perform. I think I have to go ahead with the recital because I want to bring classical music closer to the public.
In the recital I will choose gentle and familiar songs to the Vietnamese people. In addition, I will sing songs with fun rhythms and beautiful melodies. I also plan to learn some tango to liven up my performance. This is the first recital in my career to which I have sold tickets.
I think ticket sales are also a way to measure the audience's approval. If the reaction is good I will do a larger live show. I have to take things one step at a time to make opera more popular with audiences.
Many young artists do not pay attention to opera. What do you think could be done to change the situation?
Opera singing is difficult in Vietnam because artists cannot earn enough money to support their family. Their wages are very low and pay is not enough to live.
Many artists have to do other work so they are not wholeheartedly devoted to opera. I know there are many talented artists but they do not have the chance to express themselves.
Manh Dung, Pham Khanh Ngoc and Dao Mac are top opera singers. They are really passionate and are pursuing their path. But their lives are certainly not easy.
I still believe opera will gain more fans in Vietnam and Vietnamese singers will make more connections with the world opera community.
I think as Vietnamese artists love and learn opera with all their hearts they will be rewarded. I have many students but their love and passion have not yet arrived. Passion must be a fire which burns nonstop.
Viet Nam National Opera & Ballet (VNOB) is going to stage the Vietnamese opera Người Tạc Tượng (The Sculptor) by Do Nhuan. I will perform the leading role.
Previously I have performed in Cô Sao (Miss Sao) and most recently Lá Đỏ (Red Leaf).
Người Tạc Tượng and Cô Sao are classic Vietnamese operas. VNOB is gradually building its reputation by performing the classic operas of Vietnam and the world. It wants to have a more regular performance schedule.
You are the first Vietnamese singer to win first prize at the Singapore Lyric Opera ASEAN Vocal Competition. What do you think has helped you conquer international competitions?
Vietnam is not the centre of opera so obviously it is not our strength. But that doesn't mean we are inferior to other countries.
I have always loved opera and I want to devote my life for it. I think passion will help artists shine every time they step on stage or at competitions.
My emotion shows through in my singing, helping me win over judges and audiences. My teacher said my singing really touched the audience's hearts at the competition in Singapore.
Are you alone in your devotion to opera?
Sometimes I have a feeling of loneliness but the important thing is that I'm always confident in the path I have chosen.
I am not too concerned about my surroundings. My life is very simple and I am not famous. I just have an ambition to learn a lot and cultivate my soul so I can understand opera more deeply.
Besides opera, I still sing other types of music like classical music and Vietnamese folk songs. It is my hobby and also a way for me to get close to the public. There is nothing happier for me than when the audience receives and loves my work.
What is your plan for the future?
I am still on a journey to explore and conquer opera which is a colourful, intellectual and profound world. I think I have just scratched the surface.
I was fortunate to have a Norwegian teacher who I met in Austria. She has supported me as I have pursued my passion. She still gives me advice.
She told me that even now she still learns like a child. So, I think my journey has only just begun.
Opera is not only about the voice, it is also about the mind and the soul of the artist. Only education can help artists advance their career. I have never thought I was the finished product. The more I learned, the more I realise how much I don't know.
I have learned English but world opera artists know five or six more languages. I have had the chance to go abroad and I feel so small compared to the world. There are many things that I still have to learn.
VNS