A bunch of paintings by children depicting nature and scenes of nature and daily life is on display at the HCM City Fine Arts' Association.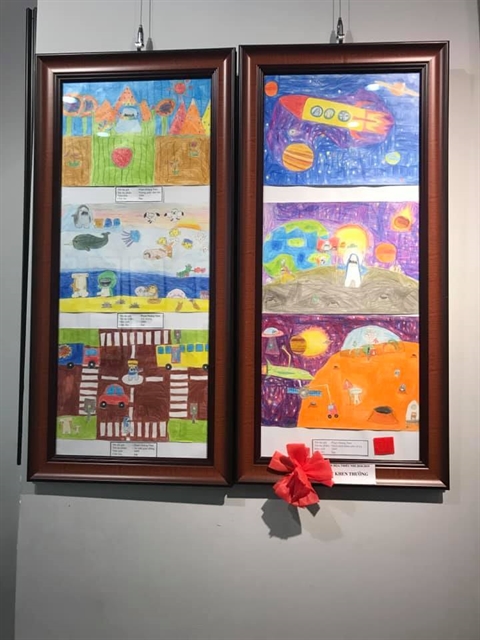 Colourful paintings by children depicting scenes of nature and daily life are on display at the HCM City Fine Arts' Association. — Courtesy photo of organisers
More than 280 watercolour, pastel and wax paintings are on display by students aged five to 16 from the association's fine arts clubs, KIDSTART, and Christina Noble Children's Foundation (CNCF).    
Vivid pictures in green, violet, yellow reflect the serenity and beauty of seas, islands and landscapes. 
Most of the paintings show landscapes, women and children.
"I can see a new and more beautiful world through the eyes of the young painters," said Nguyễn Thị Mỹ Vân, who visited the exhibition's opening ceremony last week.
The annual exhibition was organised for the first time in 1994 by the association.
This year, the association has worked with its partners, including CNCF, to offer pictures by disadvantaged children.
CNCF was founded by Christina Noble, from Dublin, Ireland, in 2002.
It is involved in a range of education, health and social services for the country's street children, with dozens of volunteers working in various fields.
It has helped hundreds of thousands disabled children, poor and homeless children around the country, providing free education, health care and meals.  
The foundation also helps children at risk of economic and sexual exploitation.
The exhibition can be seen at 218A Pasteur Street in District 3 until June 1. — VNS