A painting exhibition will be held in Hanoi on March 10 to celebrate 70 years of diplomatic relations between Romania and Vietnam.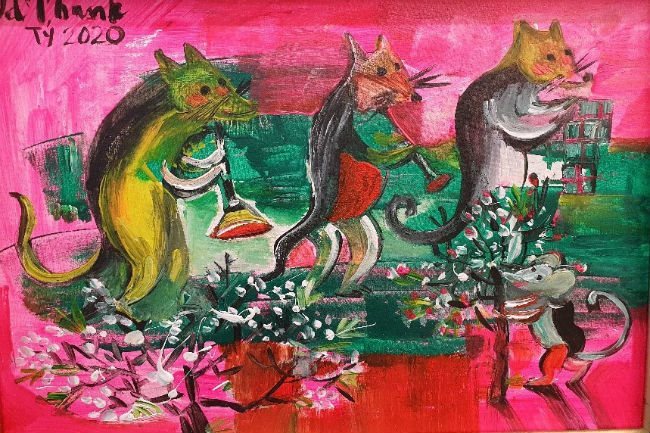 An artwork that will be displayed at the Romanian-Vietnamese Painting Exhibition - PHOTO: COURTESY OF ORGANIZER
The Romanian-Vietnamese Painting Exhibition also marks 50 years of the International Organization of La Francophonie, where Romania and Vietnam are important members.
The event will introduce classical and contemporary masterpieces by veteran Romanian painters such as Nicolae Grigorescu, Ion Andreescu, and Henri Catargi and remarkable works by one of the best contemporary painters of Vietnam, Van Tuong Thanh.
The Romanian painting art from the 19th to 21st centuries has undergone a whole range of changes. Most Romanian painters studied in Bucharest and Paris, which explains the formation of their own working style by combining traditional and modern elements.
Nicolae Grigorescu was considered one of the founders of modern Romanian painting, alongside Ion Andreescu and Stefan Luchian. Several of his works were featured at the Universal Exhibitions in Paris. He was named honorary member of the Romanian Academy in 1899.
Ion Andreescu was a remarkable figure of Romanian Impressionism. He was born in Bucharest into a merchant's family. Some of his most famous works are "Start of Spring", "In the Forest", and "The Fair in Romania". He died at the age of 32 due to tuberculosis.
Born in Bucharest in 1894, Henri Catargi was one of the top Romanian artists, who tried to bring European, especially French, influences into traditional Romanian art. He was a major influence in the country's 20th century arts and an inspiration for many young generations of Romanian painters.
Paintings by many other Romanian artists such as Ion Pacea, Ion Murariu, Francisc Bartok, Marcel Olinescu, Petre Atanasie, Ion Musceleanu, Eugen Popa, Ghe. Savu, and Constantinescu will also be displayed.
The Romanian-Vietnamese Painting Exhibition will take place at the VICAS Center for Assistance and Development of Contemporary Arts in Hanoi's Dong Da District. SGT
MUSIC & PERFORMANCES'

Whenever wearing Vietnamese traditional long dress, ao dài, all Vietnamese women feel the special beauty and attractiveness of the costume.