World champion and Paralympic winner Le Van Cong has decided to auction his power-lifting World Cup gold medal to raise money to treat a child cancer patient.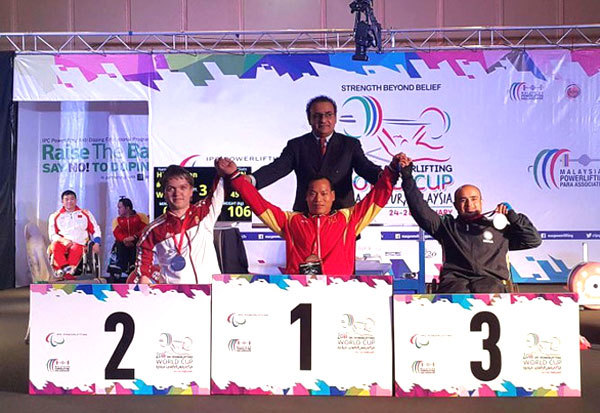 Le Van Cong (centre) receives his World Cup gold in 2016. — File Photo
In a Facebook post yesterday, the multi-tournament champion writes: "I have thought a lot and today I decide to auction my 2016 World Cup gold which is a medal that I gained from great effort after months and years. It is one part of my disability.
"I hope the medal will find a new owner while my neighbour girl could have some money to fight her liver cancer disease."
The girl is Doan Thi Bich Huong, an 11th grade student born in a poor family who can't afford to pay for her treatment.
"My auction starts today (October 21) and will end on October 31. I hope this auction will receive people's attention, share and support from people," he wrote.
People can join the event and support the girl here facebook.com/profile.php?id=100007927860518
Cong is one of Vietnam's most successful athletes with disabilities and is the world record-holder with a lift of 183.5kg in the men's 49kg class. VNS