"Nha to" folk singing, also called "Cua dinh" folk singing, in Quang Ninh province has been recognized as a national intangible cultural heritage.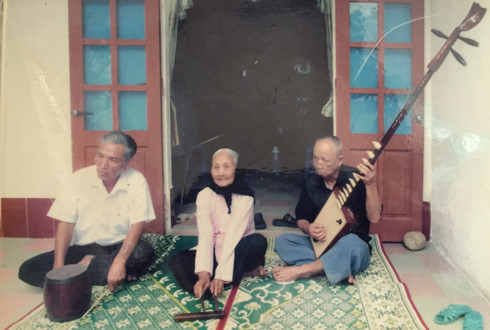 People's Artist Dang Thi Tu (middle)
This music genre has been closely associated with the life of local fishermen for thousands of years. People's Artist Dang Thi Tu has spent decades collecting and preserving ancient Nha to folk songs.
In a small house in Trai Giua hamlet, Dam Ha district, 98-year-old Dang Thi Tu is enthusiastically teaching her grandchildren to sing Nha to folk songs. Ms. Tu says the genre includes nine tones and is accompanied by dancing. She is one of the few who can perform the ancient Nha to music.
Luong Thi Khuong, one of her students, said, "Ms. Tu is very hard-working as she teaches so many classes. She has a good voice and a good memory. She is very enthusiastic about teaching us Nha to singing. I often record her voice with my smart phone and sing along".
Ms. Tu was born in the coastal area of Quang Ninh province. Her childhood was imprinted with Nha to and Cua dinh melodies. Tu started performing this music at 17 and soon became famous for her expressive voice and fluid dancing style.
After performing in local music and art programs, she was invited to perform for overseas Vietnamese in Guangxi, China. This year, Ms. Dang Thi Tu was conferred the title of "People's Artist" by Vietnam's President.
She said, "I performed Nha to singing at communal houses in different localities. The audiences responded to the singing with great enthusiasm".
Ms. Tu can sing 39 songs with 755 verses in 9 tones. Many young people who have a great passion for the genre have asked Ms. Tu to teach them: "I'm so happy that the younger generations still like this traditional art form. I'm happy to teach them to sing and perform".
To develop its tourism sector, Quang Ninh province has focused on its intangible cultural heritages, including Nha to singing to lure more tourists.
Le Binh Phuong, Vice Chairman of Dam Ha district's People's Committee, said, "We have opened classes for Nha to singing in our locality. The 40-member Nha to troupe was taught by Ms. Dang Thi Tu. We are doing our best to preserve this music genre".
VOV5