Truong Cao Minh Phat has defeated Nguyen Tran Duy Nhat in the National Muay Thai Championship which closed in Thanh Hoa on Tuesday.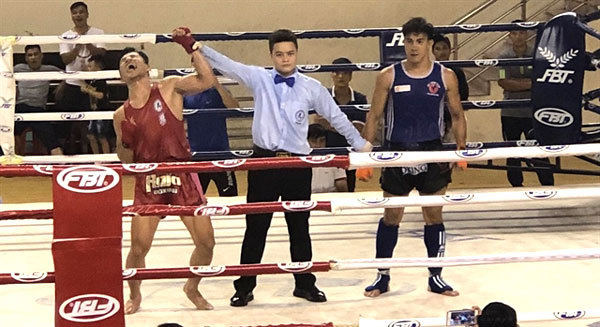 Truong Cao Minh Phat (left) beat defending champion Nguyen Tran Duy Nhat in the men's 63.5kg class at the National Muay Thai Championship in Thanh Hoa. Photo sggp.org.vn
Phat of Binh Duong burst into tears after he was announced winner of the match in the men's 63.5kg category.
After three rounds, he won 3-2 after nearly knocking-out Nhat, who has dominated the national competition for 12 years.
As the top fighter in Vietnamese Muay Thai, Nhat of HCM City was confident and launched attacks early time but young Phat was undaunted. He struggled in the the first round but rose up and took his lead after knocking Nhat down in the second round. Near the end of the round, Nhat suffered a series of punches which almost stopped him.
Nhat tried to gain more points in the third round but Phát was successful in defence and he maintained his lead till the end.
The 24-year-old's victory was a shock for the sport as Nhất has been viewed as close to impossible to beat.
Nhat's busy schedule this year could have contributed to the defeat. He won a bronze in the world championship last month and is preparing for the ONE Championship next week in HCM City.
Earlier at the national tournament, world champion Huynh Ha Huu Hieu of HCM City was defeated by Hanoi's Tran Thi Truc in the women's 48kg class on points.
The tournament ended with Hanoi on top of medal table with nine gold, four silver and two bronze medals. Hosts Thanh Hoa and HCM City were second and third, respectively.
The championship lured more than 200 athletes from 26 cities and provinces, competing in two age groups for both men and women on August 22-27.

Nguyen Tran Duy Nhat, a talented Vietnamese martial artist, qualified for the quarterfinals of the men's 60kg category at the World Muay Thai Championship that is currently underway in Bangkok, Thailand.  

Vietnamese martial artist Bui Yen Ly beat Ekaterina Gurina of Russia 30-27 to take a gold medal in the women's 51kg category at the 2019 IFMA World Muay Thai Championships in Thailand on July 28.  
VNS