French coach Philippe Troussier was hired by the Vietnam Football Federation (VFF) to coach Vietnam national U19 team in September, and the move has already paid dividends.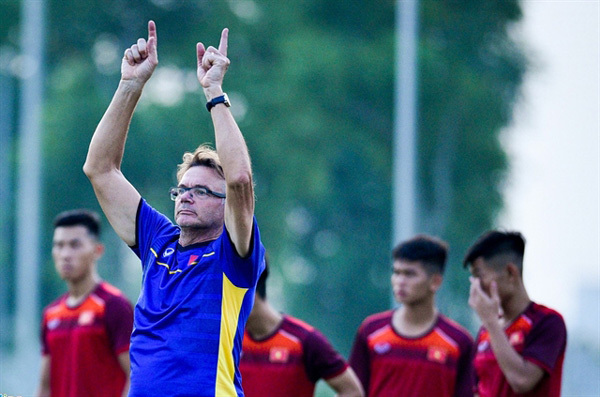 Philippe Troussier is coaching the U19 national team. Photo news.zing.vn

His side have earned a ticket to the 2020 AFC U-19 Championship in Uzbekistan as one of the four best runners-up of the qualifiers, finishing with seven points in Group J.
The result is a milestone for youth football in Vietnam.
The former Japan national team manager replaced Hoàng Anh Tuan, who resigned following Vietnam's failure to qualify for the semi-finals of the recent U18 AFF Championship.
In less than than two months, the U19 team has been revitalised and shown great progress under the guidance of Troussier, who sees himself as an assistant of senior team head coach Park Hang-seo from South Korea.
"I am the head coach of the U19 team so I think I am also an assistant of Park. I wish my team will have successes like Vietnam's U22, U23 and national teams in recent years," said Troussier.
Troussier said he will train the U19s to play with the spirit of the U23s and senior team.
"Both me and coach Park have a common philosophy. That is to create driving force and desire in footballers. My players are competing with that in mind," Troussier said.
Imposing profile
Born in 1955 in Paris, France, Troussier has worked in 10 countries and led his players in more than 200 international matches.
With 40 years of experience, the Frenchman has taken part in two World Cups, one Olympics and four FIFA Confederations Cups and has won national titles with various clubs.
Troussier has a long association with African football and particularly national teams, managing Ivory Coast, South Africa, Morocco, Nigeria, and Burkina Faso.
However, Troussier is best known for his time spent with the Japanese national team.
He coached the side from 1998 to 2002, winning the 2000 Asian Cup, placing second at the 2001 Confederations Cup and make the round of 16 at the 2002 World Cup. He also coached the Japanese team at the 2000 Summer Olympics in Sydney to a fifth-place finish.
In 2000, he won AFC Coach of the Year.
In 2018, Troussier became a strategic adviser and then a technical director of the Promotion Fund of Vietnamese Football Talent (PVF) academy in the northern province of Hung Yen.

Marks
Troussier, who is known as the 'White Witch Doctor' for his success with African club teams, had his first success in Vietnam when he led the U19 team to finish second in the Bangkok Cup 2019.
In youth football, Troussier helped Japan become runners-up of the 1999 FIFA World Youth Championship, so expectations for his impact on Vietnamese youth football are high.
"Via more than one year of working in Vietnam, Troussier has learnt about young footballers deeply. He came to Vietnam, co-operated with the PVF and Vietnam Football Federation (VFF) to develop Vietnamese young footballers towards the World Cup 2026," said vice chairman of the VFF Tran Quoc Tuan.
The 2026 tournament in North America is being targeted for qualification as the current U19s should be close to the peak of their powers at the time, while the tournament will be expanded to 48 teams.
"We expect that with his knowledge and deep understanding of Asian football during the time working in Japan and in the PVF, Troussier will help Vietnamese football. Our goal is to develop U19 and U18 players to be core players in seeking a ticket to the World Cup 2026," Tuan said.
According to Troussier, he completed his short-term target of leading the U19s to the AFC U-19 Championship in Uzbekistan next year. He will then prepare for the next tournaments in 2024 and 2026.
"Whether Vietnam can reach the final round of the World Cup or not, we will still prepare for the 2026 event with this young generation," said Troussier.
"This generation includes players born in 2000-2003. Eighty per cent of them will gain the highest peak of their career when the World Cup 2026 takes place. We will build a strong and great programme to produce good players for the national team to be ready for the World Cup. As you know, with the new format of 48 teams, Asia will have 8.5 slots to compete in the cup and of course, the chance also comes to Vietnam," Troussier added.
The French coach said coaching Japanese youngsters had helped prepare him for his work in Vietnam.
"I know exactly which points I have to focus on in order for my players to compete effectively. I hope I can make my players feel secure. Because they need it. They need to feel comfortable and confident. They must believe in me and I believe in them," Troussier said. VNS
Lam Giang

Vietnam's national U19 football team will take part in the Toulon Tournament, which is scheduled to get underway in France in the summer of 2020.

Vietnam sealed their spot in the AFC U-19 Championship Uzbekistan 2020 Finals after playing to a 0-0 draw with Japan on Sunday.