Photographer Le Bich sees things through the lens most of us don't see. His photographs depict a wide variety of subjects, from women in the work place, to Tet (Lunar New Year) celebrations and photographs of old Hanoi.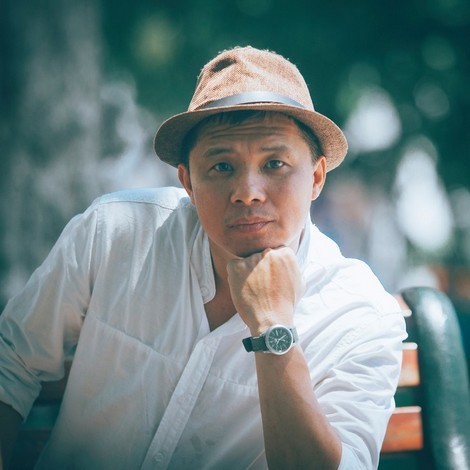 Photographer Le Bich

But it is his candid shots of the festivities surrounding the festival that has earned him popularity. Here he talks to People's Police online newspaper reporter Viet Ha about the meaning of Tet.

Vietnamese people have been preserving and developing their cultural values for years. Why is this important in modern society?
I've attended shows and photography exhibitions on this occasion, and my photo essays about Tet have been published in newspapers.
Many traditional customs have been maintained such as making bánh chưng (sticky rice cakes), traditional village festivals, visiting and cleaning the graves of ancestors, and visiting neighbours on the first day of the new year.
During Tet, mothers teach their daughters to how to cook mứt (traditional sweets) from coconut, kumquat, apple and tomatoes for their visitors.
Many people said that Tet has changed a lot and the spirit of Tet has been lost. Do you agree with them?
It is the rule. Everyone especially young people are always overwhelmed by new things. It takes a long time to feel the soul of the old things and to know the values of the tradition.
Society is changing and developing quickly. New culture is introduced and new things are quickly accepted because of trend.
The young people quickly forget the old because they have many options. They prefer the new and the modern. It is important to have people who keep the spirit and the value of tradition culture then spread into a community.
The young people take long time to understand the value of the tradition.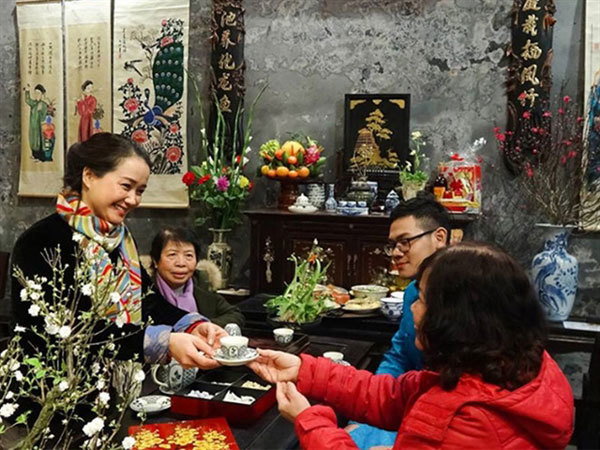 Receiving visitors on the first day of the Lunar New Year. Photo Le Bich
 
Many Vietnamese want to celebrate New Year on January 1 instead of the first days of the lunar calendar. What do you like to do?
I disagree with people abandoning Tet or Lunar New Year festival because it is a longstanding Vietnamese tradition.
Former Vietnamese Ambassador Pham Sanh Chau at the UNESCO headquarters is trying to recognise Tet as cultural heritage of humanity. His dream is to promote Vietnamese Tet around the world.
It would be great if Tet was recognised as an intangible cultural heritage of humanity.

In your opinion, can Tet be recognised as a heritage of humanity?
According to UNESCO, a heritage must be long lasting and contribute to the diversity of world culture. Vietnamese Tet gathers the whole country to celebrate.
Tet has many features including giving lucky money, foods and peach blossoms, and almost every village has a spring festival and worshiping.
Every Vietnamese family has an altar for the ancestors that is decorated for Tet.

Do you think younger people get emotional about Tet?
I teach my students to live slowly and feel the beauty of each person, and then take pictures. Creating a love for Tet needs beautiful memories.
Now people are too busy and they spend money here there and everywhere. It is very difficult to form memories of they don't make bánh chưng or choose flowers.

What do you usually do for Tet? What are your plans this year?
I will wander around spring festivals taking photos. This year, I have been invited to hold a solo exhibition. I also want to work with other authors to launch a new book about Vietnamese folk paintings.
I will release more new photo essays about the beauty of Vietnamese markets.
In 2020, Hanoi will celebrate 1,010 years of Thang Long - Hanoi. I will host a small project to contribute to the city's celebrations. It will be a busy year. VNS

Forty photos by photographer Le Bich capturing the beauty of Hanoi are on display at Kim Ngan Temple, 42-44 Hang Bac Street, from October 4 to 15.

Phung Hung and Hang Ma mural painting streets, Nhat Tan peach garden, book street, and Phuong Linh flower garden are among the top five places in which people can go to take elegant photos before Tet.