A play on money and love adapted from Honoré de Balzac's novel Eugénie Grandet by female director Viet Linh will be staged on June 14 at the HCM City Opera House as part of a theatre project launched by the theatre and its partner,
 the HCM City Centre of Performing Organising and Cinematography.
HCM City theatre troupes preserve tuong
Veteran artist's cai luong troupe attracts fans
Private drama troupe offers training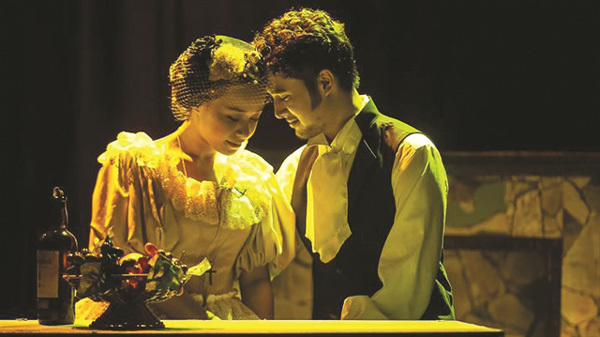 A scene from the Vietnamese adaptation of Balzac's novel Eugénie Grandet, to be staged by Hong Hac Drama Troupe in HCM City. (Photo courtesy of the producer)
The project aims to support private drama troupes that offer experimental plays.
"We've worked with Hong Hac Drama Stage and Dai Viet Cai Luong Theatre, both owned by veteran artists, to stage new dramas and cai luong (reformed opera)," said Le Huu Luan, director of the centre, one of the project's founders.
"Today, only quality performances can bring theatre closer to audiences, particularly young people," he said.
Luan said he hoped that foreign visitors would also learn more about Vietnamese theatre through the productions.
The Vietnamese version of Eugénie Grandet, which will debut at the Opera House on June 14, is about a wealthy but miserly Felix Grandet whose deeds lead to tragedy for his daughter Eugénie and himself.
Linh worked with her younger colleague, theatre director Tay Phong of Hong Hac Drama Troupe, to write the screenplay.
"Balzac released Eugénie Grandet in 1839 but it has modern content. The play's message is about the hypocrisy and shallowness of wealthy people and how money controls their lives," Phong said in an interview with Thanh Niên newspaper.
The director invited young artists Le Chi Na, Thanh Tuan, Luong My and Hong Dao to play leading roles. Hong Hac Drama Stage began its business in 2015. Its owners, Linh and theatre director Pham Hoang Nam, and young actors have worked hard to offer experimental shows with new concepts and techniques.
After Eugénie Grandet, a cải lương play will be staged by performers of Dai Viet Cai Luong Troupe, which opened last month.
The play Chuyện Tình Khâu Vai (Love Story in Khau Vai) will feature 20 young and veteran actors from the city and southern provinces, including Meritorious Artists Le Tu and Que Tran, both of whom have performed in several hundred plays and TV shows.
"We failed to stage our first show on April 30 because we needed to have more time to perfect our art before staging," said theatre scriptwriter Hoang Song Viet, a member of of the theatre's managing board, and writer of 20 plays, mostly award-winning productions.
"Performing at the Opera House is a big dream of any artist. We will try our best to bring cai luong, a traditional theatre of southern Vietnam, to audiences and visitors," said the 65-year-old.
According to Viet, the members of Dai Viet Cai Luong Troupe are working to offer a series of historical shows after Truyện Tình Khâu Vai.
They will stage Ngọn Lửa Thăng Long (Fire of Thăng Long Citadel), Câu Thơ Yên Ngựa (Poems on the Saddle) and Tiếng Gọi Non Sông (The Call of the Nation), which feature national heroes and soldiers.
Theatre critic Thanh Hiep of Người Lao Động newspaper, a member of the city's Association of Theatre Artists, said: "HCM City has nine private cai luong troupes and mostly owned by veteran artists. The project by the city's Opera House and HCM City Centre of Performing Organising and Cinematography will help them develop their business." VNS
Thu Anh