The latest works of artist Nguyen Linh at an ongoing exhibition in Hanoi expresses well the endless creativity he's brought to light during his 40 years with brush in hand.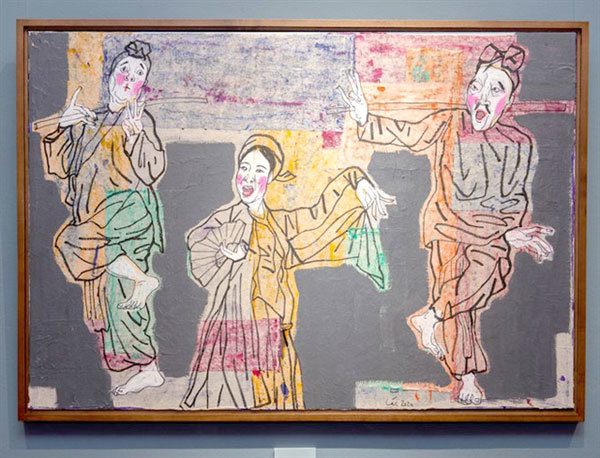 BROUGHT TO LIFE: Traditional chèo characters, as seen by Nguyen Linh.
Entitled Nguyễn Linh 4, the exhibition includes more than 40 paintings made this year. Most are large-sized, with the main themes being cattle, pets, portraits, and the folk art genres of chèo (traditional opera) and lên đồng (spirit mediums).
"It's a great experience to attend this exhibition," artist Luong Xuan Doan, chairman of the Vietnam Fine Arts Association, told the opening ceremony at the Viet Art Centre in Hanoi on December 12.
"The career of most artists from my generation have been more or less at a standstill for the last few years. Seeing Linh's hard work and energy brings up a lot of emotions."
His works on chèo and lên đồng are highlights, especially because this is the first time he's covered them despite their popularity among other Vietnamese artists.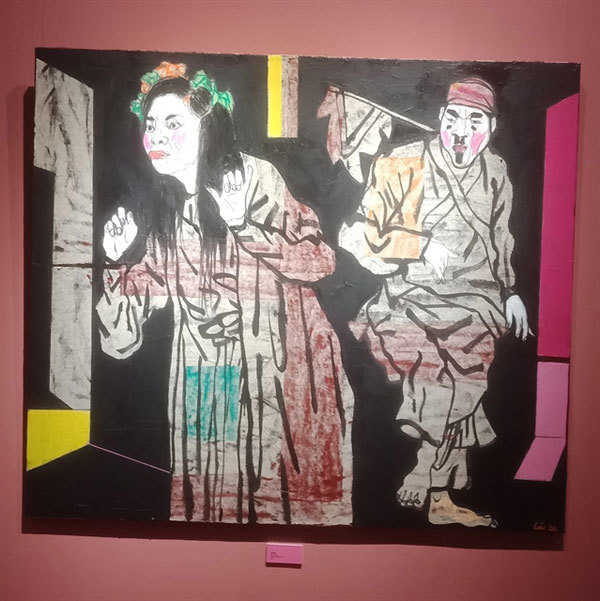 REGULAR ROLE: Súy Vân, a common character in chèo.
Familiar traditional characters like hề chèo (chèo clown), Súy Vân, and cô đồng (medium performer) appear lively under Linh's flexible strokes on canvas.
With the rhythm and features of chèo, such characters appear eager to invite the audience to join in the spectacular scenes of the artist's imagination.
"To experts, the three-dimensional space through the outline of the structure is clear to see," said fine arts critic Pham Long.
"The paintings bear a contrast of light - dark, hot - cold, and emptiness - fullness. The colours are both modern and traditional, creating unexpected layouts that help their surrealist intentions."
Linh's series on cattle also reveal a keen observer of nature and a man familiar with livestock. Visitors to the exhibition will discover a certain beauty in the moves and posture of the cattle.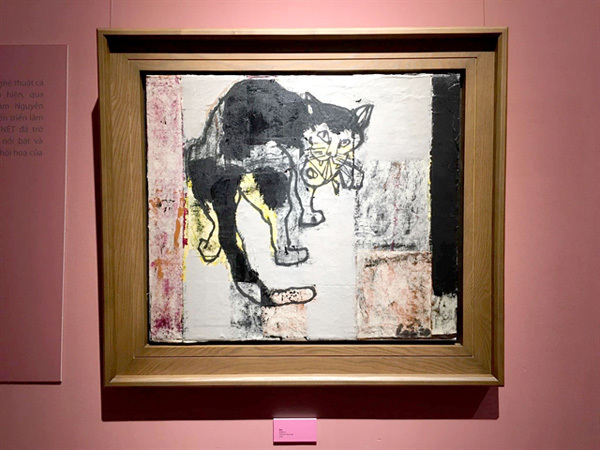 FELINE FORM: A cat from the 'Nguyễn Linh 4' exhibition.
IMAGE SEEN: Nguyen Linh, in self-portrait. VNS Photos Nguyen Binh
He also draws cats with different postures, and this is probably his view of human life. His cats look cute but also aggressive, reflecting the feline dichotomy of laziness and ferocity.
With simple strokes, Linh also sketches buffaloes, goats and fighting cocks.
His gift is especially revealed in his portrait series. Bold, thin strokes are used to draw friends from the world of art, such as fine arts critic Thai Ba Van and poets Hoang Trung Thong and Bang Si Nguyen.
The series includes a self-portrait, which the audience may not actually realise at first glance. His muscles and beard make him look more like a martial arts instructor.
Linh did indeed study martial arts for a time at school, but dropped out on his master's advice, who was afraid he may actually hurt someone.
He began to paint at the tender age of eight, and was one of only a few students to pass the entrance exam for the Vietnam Fine Arts University at the first attempt.
There he was fortunate to study under famed artists such as Tran Van Can, Tran Luu Hau, and Do Cung, who all had an influence on his career.
After graduating from the university's oil-on-canvas faculty in 1983, he worked at the Thiếu Niên Tiền Phong newspaper for children for a few years.
He used to be part of a group of graduates of Hanoi's fine art colleges who encouraged each other during the early years of their careers.
The group later became the "Gang of Five", and were perceived as among the most promising artists of their generation and the first local artist group to gain international acclaim following the country's "renewal" process in the late 1980s.
Art never put enough food on the table, however, and Linh long ago turned to successfully running the popular Cơm Phố restaurant at 29 Le Van Huu Street in Hanoi.
Many may have believed he quit the world of art and became a businessman, as he was rarely seen at artistic events.
But nothing could be further from the truth. Linh still paints and surprised fine arts circles when he held his first solo exhibition in 2005 and two others in 2010 and 2011.
"I have no big idea when I start to draw," he said.
"I just want to paint daily life. It provides me with endless inspiration. I like realism, and it helps me express typical Vietnamese characteristics."
"I'm now at my most energetic and I surprise myself by drawing so quickly. I think my experience and natural ability have finally come together."
Painting is like no other profession, where progress can be seen and measured. It's very much a process, where the artist must explore and experiment.
"Linh is unique. He has a style of reducing colour and focusing on strokes, which give his paintings different expressions," researcher Long said.
"He has carved out a distinct position for himself in modern Vietnamese art." VNS
Nguyen Binh 

The exhibition is a part of the project "From tradition to tradition" which encourages young artists to preserve the folk art and values of cultural heritages.