Nguyen Son is a talented architect, without doubt. But painting is his real passion, and represents something close to salvation.
"When I worked as an architect, clients were happy to put their trust and belief in me, and even give me billions of đồng, but one thing they never gave me was the freedom to create," Son said.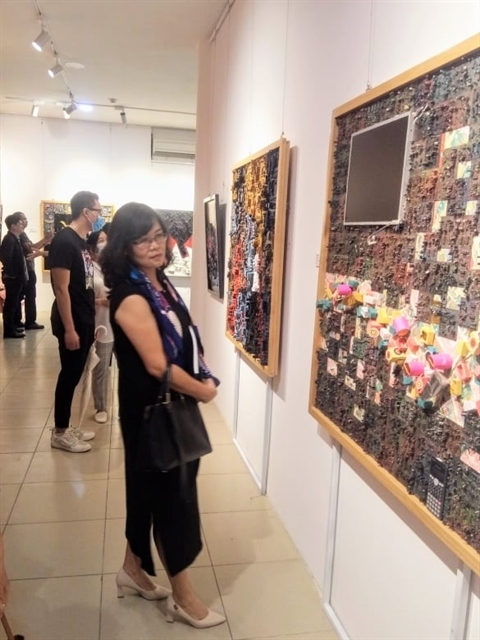 The "Matrix" exhibition in Hanoi
With painting, it's different. He doesn't depend on anyone but himself, and the process of searching and experimenting gives him a great deal of satisfaction.
After six years of practically eating and sleeping with his art works, he has selected more than 50 to display at an exhibition entitled "Matrix", at the Vicas Art Studio on Hanoi's Hao Nam Street until November 15. The main materials he uses are circuit board scraps and acrylic.
"Every issue has a duality," he believes. "The more industrial development there is, for example, the greater the consequences, with greenhouse gases causing climate change. There is also an increase in toxic and destructive waste, and dangerous incidents in atomic energy development, genetic modification, and biological warfare, etc. Similarly, in terms of digital technology, we must also face the negative aspects, such as viruses, hackers, gaming addiction, and social media addiction."
"Initially, the concept of a matrix came to me subconsciously," Son said.
"As an architect, I have found that there is almost no answer to the question of how to develop a sustainable city that is compatible with 'quality of life' for its inhabitants. It's like being lost in a maze," he said.
"Everyone wants to live in a developed and civilised environment, but I believe that after having to live with the level of development seen in Hanoi and HCM City today, many people would wish to return to the 1990s or even earlier, when life was at least serene and pure."
Son revealed: "I returned to painting in the hope of striking a psychological balance and getting away from the mess of life. Over the last six years I painted a lot of different things, worked with a variety of materials, and didn't get caught up in any special philosophy or purpose, though my paintings, unintentionally, were still haunted by a conflict in development. Somewhere, there was a sadness about the negative aspects of the environment, culture, society, economy, and politics around us.
"Only when I started to make paintings from circuit boards did I find myself feeling independent and free from externalities. It was like I had already mastered the matrix."
The original idea that came to Son was quite simple.
He just experimented with making paintings from circuit boards that had become waste. A circuit board is very difficult to cut into the desired shape without using digital technology for the intricate details, so he minimised the cutting but made use of the shape of the core board to develop an art work.
This way was so fascinating to Son that he no longer had to focus on determining the shape or idea. He became lost in connecting boards in a logical way. He then used acrylic to give new meaning to the board plates.
While one of these two materials is a rigid patch of random rough shapes, the other is soft and fluid, like water, and was poured randomly. It is this randomness that creates contrast but also shows unity. Being engraved but harmonious, it is itself a matrix.
Everything happened quickly and tended towards randomness, but it was during this process that the artist's emotions were sparked. It made him realise he was able to both produce creative content and control the chaos and disorder of the materials, therefore turning the useless into the useful.
That's an important part of the matrix: figuring out the control method and directing it to the creator's trajectory and consciousness.
"There were times when I felt like I was caught up in a 'Blind Space', which was the name of a music album I composed, but now painting has saved me, freed me from negative emotions," Son said.
The process of creating a work is quite interesting and more important than the final product. Producing this type of art gave him a sense of pleasure; not unlike being drunk. He could ignore the blazing sun, the heavy rain, the noise, and the pollution.
According to Bui Quang Thang, artistic director at Vicas Art Studio, Son's works are definitely fussier about the audience but may act as a new contribution to Vietnamese art.
"Digital technology is characteristic of the era we live in -- it has positive as well as negative impacts on every corner of life, including the arts," Thang said.
"An artist needs to face that fact. It is impossible for an artist to pretend to live in pre-industrial times and create works of art that have no relation to today.
"In ordinary language, a matrix demonstrates control over deadlock, impasse, confusion, and conflict to find positive and effective solutions for life. The matrix in Son's artistic creations can be seen as control over internal conflicts with positive emotions."
According to Dr Le Dinh Tri, PhD in architecture, a former senior lecturer at the Hanoi University of Architecture, Son's works represent the man's ego but also relate to the times.
"Son is talented and has a strong personality," Tri said. "He has many concerns, and great passion. He cares about the environment, waste, and the negative side of life, so his works also show that aspect of living. His collection reflects life and the methods of an architect, so is different from others. It doesn't mix with the flow of life."
Of the works on display at the exhibition, Son is most satisfied with Suc Nen Do Thi (Urban compression), Thoi Dai 4.0 (Digital age), and Su Phan Ra (Disintegration).
"Industry is not well controlled and has consequences for the living environment of human beings," Son said in explaining a little about "urban compression".
"It buries, coerces urban life with its many harmful effects. Humans become like zombies, both in body and soul."
Among Son's works at the exhibition, Diem cham (Touch point) was featured in an online exhibition in Italy this year; Ma tran kep (Double matrix) was selected for show at the National Fine Arts Exhibition 2020; and Ke canh giu tuong lai (The guardian of the future) was displayed at an exhibition in the UK in 2018.
Talented architect
As an architect, Son has been part of designing a whole host of different projects, like hotels, office buildings, apartments and entertainment areas in a number of provinces.
In 2002, he and his colleague Cao Kim Sa won second prize in the Golden Hanoi architecture competition, held by the Vietnam Association of Architects and the Hanoi Chief Architect Office. He now has a design company called A.S, which his wife manages.
Son also loves poetry. He won the Consolation Prize in the 1991 National Poetry Competition held by the Hanoi People's Committee when he was a student at the Hà Nội University of Architecture.
In 1995, he published a book of poetry called "Gio dong hanh" (The accompanying wind). In his spare time, he still writes poems to post on Facebook for his friends.
Hanoian photographers are no stranger to the man. He has been playing with photography since 1986, and owns many modern cameras.
Few people know that Son also studied martial arts at the age of 13 and won a silver medal in the National Student Tournament in 1991. He was also a martial arts master for many years and once defeated the head coach of Vietnam's "pencak silat" (a type of martial arts) team.
Music, for Son, is like a soulmate that can share his sadness and joy and help him overcome fatigue. He still silently pursues the art, but few know of this separate passion of his.
The album "Blind Space" consisted of 12 songs that he selected from more than 100 pieces, and was released in 2009. His music style is mainly pop and rock ballads.
The lyrics in Son's songs are philosophical, drawn from life's experiences. There is a certain torment, though, expressing a desire to reach the beauty in the human soul.
VNS

The third ASEAN Graphic Arts Exhibition has just opened in Hanoi as an art event to strengthen mutual understanding between ASEAN members.