Táo Quân's production company VFC has confirmed that Gặp nhau cuối năm – Táo Quân (Year-End Rendezvous – Kitchen Gods) will air again to celebrate the coming Lunar New Year festival. 
The Táo Quân 2021 show will be broadcast on national VTV channels on Lunar New Year's Eve which, this year, falls on February 11.
The show is named after the Vietnamese mythology's Kitchen Gods who fly up to Heaven on the 23rd day of the twelfth lunar month to report to Ngoc Hoang (the Jade Emperor or the Heaven Ruler) on what went on in that household throughout the year. On the show, the Gods report everything that happened on Earth throughout the year with a sarcastic twist.
The show is set to undergo some changes of format under new director Khai Anh. Famous actors like Quang Thang, Xuan Bac, Van Dung, Tu Long, Cong Ly have been seen in backstage photos.
Tu Long has confirmed he will play the Social Affairs Kitchen God.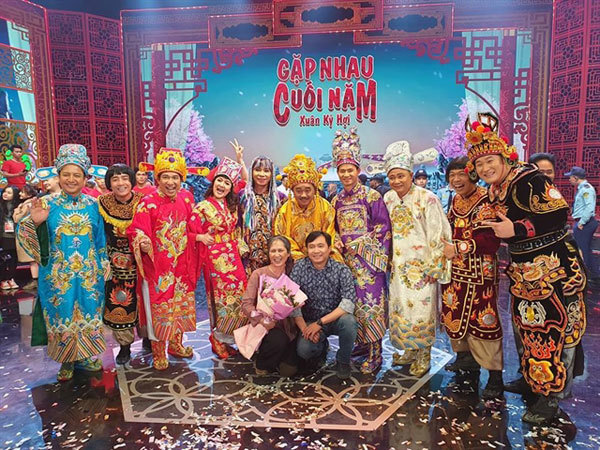 The cast of Táo Quân (Year-End Rendezvous - Kitchen Gods) celebrates the completion of the 2019 show. Photo: VNN
2020 has been a turbulent year for every country, creating plenty of fodder for the hugely popular TV show.
Issues like working or studying from home, face mask shortages, mandatory quarantine for citizens who returned from abroad and the dire economic situation due to COVID-19 will surely be covered. Whoever plays the Public Health Kitchen God will have a lot of scope for a stellar performance, and many people hope female comedian Van Dung will reprise the role.
Other highlights of 2020 set to be covered are the US presidential election, floods and storms in Central Vietnam and the unexpectedly cold weather this winter.
The show sums up the year's issues in Vietnamese society from good performances to bad governance, bureaucracy and corruption, all in a comedy performed by the country's top artists.
Applauded by many as one of the best programmes on national television, the show combines contemporary issues with popular songs from Vietnamese traditional theatre, as well as international songs with Vietnamese lyrics adapted to comment on social issues.
Last year's Táo Quân was cancelled after a 16-year run. VNS/VNN

A special performance of comedy, song and dance to welcome the New Year will take place in Hà Nội on December 28, gathering big names from across the country.

This Lunar New Year, which falls on January 23, 2020, for the first time in 16 years, Vietnamese families will not sit down after eve dinner to watch the most anticipated TV show of the year: Táo Quân.