Ngo Luc, a painter and architect in HCM City, believes it is necessary "to open more art spaces in the city to deepen aesthetic appreciation and creativity among people, especially youth."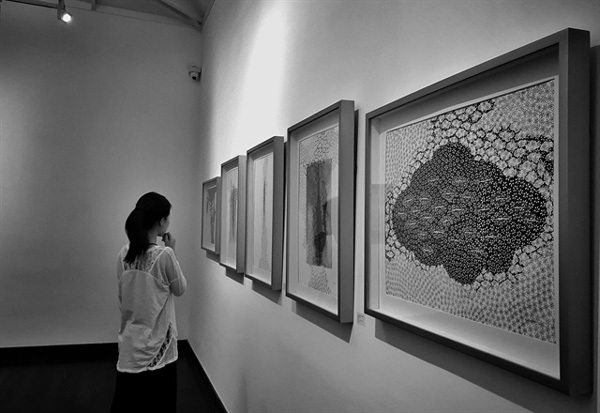 A visitor views Salon Saigon's permanent collection including art works by acclaimed contemporary Vietnamese artists and artists of Vietnamese origin such as Dinh Q. Le, members of The Propeller Group, Tiffany Chung, Oanh Phi Phi, Bui Cong Khanh, Nguyen Manh Hung, Truong Tan, and Hoang Duong Cam. Photo courtesy of the gallery
Luc, who plans to open his Nice Day Studio on Nguyen Van Linh Street in District 7 early this year, hopes that local and international artists will engage in arts exchanges in the future at his space.
He also plans to hold exhibitions and festivals about art, architecture and performing arts.
"If people see art works on a daily basis, the arts then become a part of their life," he says.
In recent years, more and more arts galleries have opened in HCM City.
Located in a two-storey historic house on Ngo Thoi Nhiem Street in District 3, Salon Saigon, for example, has become popular among city residents.
The venue introduces contemporary creation and Vietnamese culture through art exhibitions, performances, conferences, screenings, and educational programmes.
It also displays a permanent collection including art works by acclaimed contemporary Vietnamese artists and artists of Vietnamese origin such as Dinh Q. Le, members of The Propeller Group, Tiffany Chung, Oanh Phi Phi, Bui Cong Khanh, Nguyen Manh Hung, Truong Tan, and Hoang Duong Cam.
The collection aims to promote emerging Vietnamese artists, and focuses on how artists approach Vietnamese tradition and heritage with current issues.
Last year, the gallery organised talk shows and workshops about Vietnamese arts history, culture, literature, costumes, and traditions.
Dozens of symphony music concerts performed by the Saigon Classical Music Group have also been held with the aim of bringing classical music closer to people, especially young people.
Vo Ngoc Tram, a student at the HCM City University at Social Sciences and Humanities, says she and her friends visit Salon Saigon once a month for concerts, workshops or talks.
"We're happy to find such an art space like Salon Saigon. It offers many topics I love, from the arts, culture and literature to music," says Tram. "I learn a lot from such activities. They improve my general knowledge, aesthetic ability, and living skills."
Another favourite arts hub in the city is A. Farm, collaboratively managed by well-established arts organisations Nguyen Art Foundation, MoT+++, and San Art.
Set up in 2018, A. Farm is a hub for artists, cultural workers, events and exhibitions. Its offers long and short-term art residency programmes to local and international artists, as well as arts training programmes to the community.
Last year, the hub, in collaboration with the French Institute in Vietnam, launched the artist residency programme called Villa Saigon X. A. Farm.
The 10-week long programme attracted French artists like Frédéric Dialynas Sanchez and Vietnamese artists living in France, including photographer, filmmaker and installation artist Nguyen Le Phuong Linh.
Sanchez held a solo installation exhibition called The Legacy of Diogenes at Galerie Quynh, a long-established gallery, in District 1 from January 10-22. The exhibition featured his memories about his father, who spent his childhood in Vietnam.
Linh's exhibition Dictionary of Images included about 100 photos of the natural environment and urban and countryside landscapes in France and Vietnam.
The images reflected the faces of the land as well as Linh's thoughts about nature, urban areas, portraits, and materials and architecture abandoned or used by humans.
Linh's exhibition was held at the Institute of Cultural Exchange with France (IDECAF) from September 27 to October 18.
Another popular art gallery in the city is The Factory Contemporary Arts Centre in District 2, which opened in 2016.
Nguyen Thi Hue, a teacher at Hung Vuong Secondary School in Dong Nai Province, says the opening of more private galleries "has helped introduce a variety of different styles and artists. The galleries should work with local schools and organise field trips for students so they can learn more about the arts". VNS
By Phuong Mai

A collection of 115 art works by nine artists of HCM City is on display at the HCM City Fine Arts Museum.

Eight contemporary artists from Vietnam and foreign countries showcase their artworks at an exhibition that opened yesterday at the Vincom Centre for Contemporary Art (VCCA).