A TV series about the Nguyen Dynasty in the 19th century will be filmed next month by a private film company in HCM City.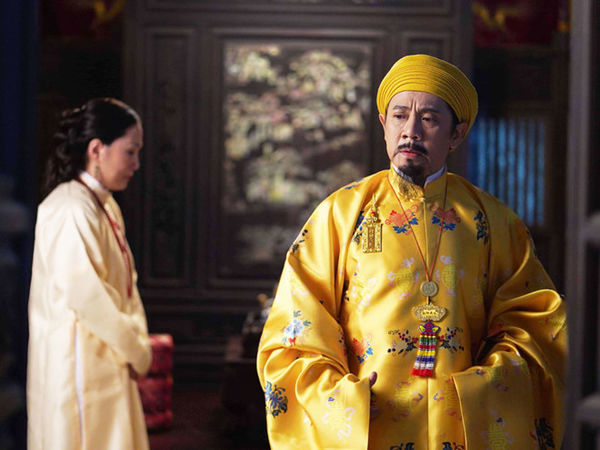 A scene in Phượng Khấu (The Queen's Robe Button Engraved with an Image of a Phoenix), a 18-episode TV series about the Nguyễn Dynasty in the 19th century produced by the private film studio Ocean Company in HCM City. — Photo courtesy of the produce
The 18-part series, Phượng Khấu (The Queen's Robe Button Engraved with an Image of a Phoenix), features Queen Mother Từ Dụ, whose real name was Phạm Thị Hằng. She helped her son, Hồng Nhậm, to become Emperor Tự Đức.
The show focuses on the life of Từ Dụ between 1840 and 1847 when she was a royal concubine of Emperor Thiệu Trị, the third emperor of the Nguyễn Dynasty.
Emperor Thiệu Trị was the eldest son of Emperor Minh Mạng, and reigned from 1981 until his death in 1847.
Emperor Tự Đức enjoyed the longest reign of any monarch of the Nguyễn Dynasty, ruling from 1848 (after his father Emperor Thiệu Trị's death) to 1883.
Film director Huỳnh Tuấn Anh and his staff have travelled to many sites across the country to prepare for filming.
"I invited dozens of historians and cultural researchers, including historian Nguyễn Khắc Thuần and Professor Lê Văn Lan, to complete the screenplay," said the film's director Anh, in his interview with Thể Thao & Văn Hóa (Sports & Culture) newspaper at a recent press conference on the film in HCM City.
"We spent more than two years and a big sum preparing for the film," Anh added.
Each 60-minute episode of Phượng Khấu costs VNĐ2 billion (US$85,400), far more than the VNĐ200 million (U$8,500) for a TV episode produced by HCM City Television Station.
3D technology will be used during shooting.
The film's producer, Ocean Company, hired fashion designers to complete more than 200 costumes. Half of the clothes are handmade.
The film's leading roles are played by People's Artist Hồng Vân, Meritorious Artist Thành Lộc and Vietnamese-American actress Hồng Đào.
Young artists Diễm My and Jun Phạm are also featured.
Director Anh asked his actors to learn the authentic words used by Vietnamese centuries ago.
"We believe our work will make waves in the local film industry, which is being dominated by commercial TV shows," said Anh. "We will sell our film to TV stations and on YouTube later."
The film Phượng Khấu is expected to be released next year.
Films about historic events
Private filmmakers have made more films about historic events in recent years.
The HCM City-based private film company Bản Sắc Việt has produced a series of TV shows about Indochina wars.
"We enjoy making historic movies although the work is not easy," Lê Phong Lan, female director and owner of Bẳn Sắc Việt, said.
Her studio produced prize-winning films such as Huyền Thoại Về Tướng Tình Báo Phạm Xuân Ẩn (Legendary Major General-Spy Phạm Xuân Ẩn), Đại Tướng Nguyễn Chí Thanh - Cánh Chim Không Mỏi (General Nguyễn Chí Thanh - Unweary Wings) and Hiệp Định Paris 1973 (Paris Peace Accords).
One of the studio's highlighted works is Mậu Thân 1968 (The Mậu Thân Offensive in Spring 1968), a 12-part series produced in 2012. The film has been rebroadcast several times on channels of Việt Nam Television, HCM City Television and provincial television stations.
Another is the 15-part series Dân Tộc Việt — Hành Trình Vươn Ra Biển Lớn (Vietnamese People — A Journey toward the Sea), which depicts the challenges and opportunities of Vietnamese in a globalised world.
Việt Long Studio, which opened in 2013, produced two historic works over the last three years, including Triều Đại Quang Trung - Nguyễn Huệ (The Reign of Emperor Quang Trung - Nguyễn Huệ), which left a strong impression on audiences in southern provinces.
Last year, the studio's 45-part TV historical series, Dũng Tướng Trần Hưng Đạo (National Hero — Brave General Trần Hưng Đạo), was screened on HTV.
"Young Vietnamese, including university students, lack knowledge about their own history, while learning about China and Korea through movies on local TV stations," said Lan, who works as a lecturer for the HCM City University of Theatre & Cinematography.
"Cinematography authorities should give priority to support both State-owned and private filmmakers in making films about historic events," she said. VNS
Thu Anh