Poems and literary works by Hoang Cam, a leading poet in revolutionary literature during the 1950s and 1960s, will be featured in a special project called Hoàng Cầm 100 Năm (Hoang Cam - 100 Years).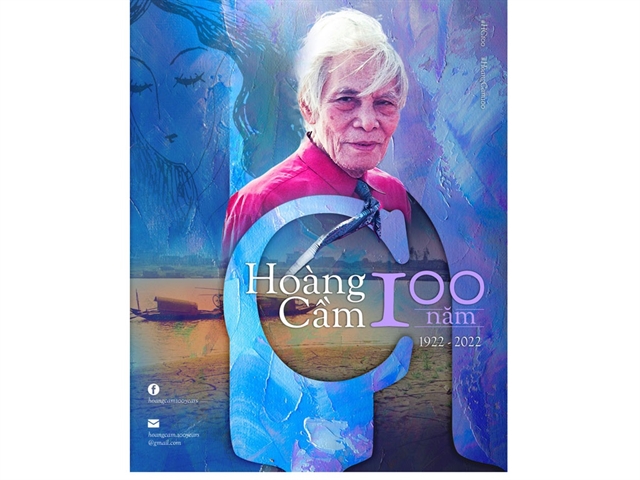 Poemsand literary worksby late writer Hoang Cam, a leading poet of Việt Nam's revolutionary literaturein the 1950s and60s, will be featured in a special art project called Hoàng Cầm 100 Năm (Hoang Cam - 100 Years). Photo from the project
The project, launched in HCM City this week, aims to celebrate the poet's life 11 years after his death. It will collect, record and release works by poet Cầm, as well as documents and articles about the artist's life and career. 
The project will help readers, cultural researchers and writers learn more about Cầm's works. Young writers are encouraged to send their creations related to Cầm to promote the project via the email hoangcam.100years@gmail.com 
"Through our project, we hope readers, authors, poets and artists in theatre, music and movies, can work together to learn about and introduce Vietnamese poetry and Cầm in particular," said Bùi Huệ Chi, one of the project's makers.
Chi is working with the artist's family to run the project.
Cầm was born in 1922 into an intellectual family in Thuận Thành District in the northern province of Bắc Giang. 
He began writing poetry at the age of eight and his poems were first published when he was 14. He graduated from senior high school in 1940 and began his career as a writer and translator.
At the beginning of the war against the French, he joined the National Salvation Youth Union, a group of patriotic young men and women operating under the leadership of the Việt Minh (League for the Independence of Việt Nam).
He joined art and literature activities to serve the resistance movement between 1944 and 1950. In 1952, he worked as the head of the Military Art & Music Troupe in Hà Nội. 
He was a founding member of the Việt Nam Writers' Association in 1957. In 2007, he was awarded the State Prize for Literature and Arts.
His famous works include poems Bên Kia Sông Đuống (The Other Side of Đuống River) and Lá Diêu Bông (Love Leaves), and the dramatic play Kiều Loan (Ms Kiều Loan), which highlight themes about the country, women and love.
Bên Kia Sông Đuống is used in textbooks for high school students. 
Kiều Loan has been adapted into plays and chèo (traditional opera) staged by leading theatres in Hà Nội and northern provinces, including the Việt Nam Drama Theatre and Hà Nội Chèo Theatre.
For his contributions, Cầm was honoured with the State Award for Literature and Arts, the highest award in Việt Nam.
VNS

Book "Su bat dau cua nuoc" by Vietnamese poet Tran Le Khanh has been now available in the US book market under the name of "The beginning of water".