The Vietnam Puppetry Theatre will stage Truyện Kiều (The Tale of Kiều) for the first time as an experimental performance.
Television series to tell the Tale of Kieu
First puppetry festival to be held in HCM City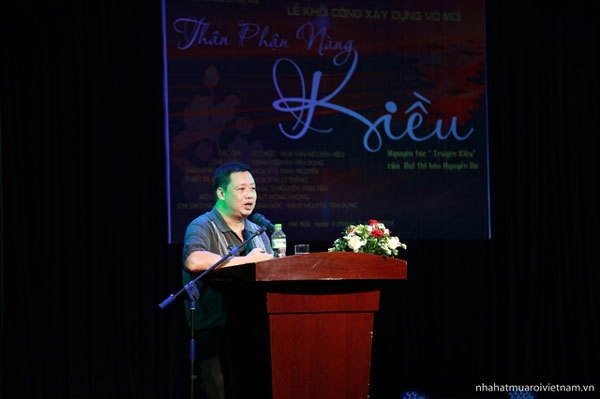 Director of the Viet Nam Puppetry Theatre, Nguyen Tien Dung, speaks at the launching ceremony for the new Truyện Kiều (The Tale of Kiều) puppetry performance in Hanoi recently. — Photo coutesy of Viet Nam Puppetry Theatre
The Tale of Kiều, a Vietnamese epic by Nguyen Du (1766-1820), is a Vietnamese literary masterpiece. The poem recounts the life and trials of Thuy Kieu, a talented young woman who has to sacrifice herself to save her family.
"The Tale of Kiều is well-known and popular among Vietnamese," said director and People's Artist Nguyen Tien Dung at the performance launching ceremony held recently in Hanoi.
"It has been performed on the stage in various art genres, including chèo (traditional opera), cải lương (reformed theatre), and drama. But this is the first time that puppetry is being used to perform Kiều."
The director said that he had considered staging the work for years, but had not felt confident to do so until now.
The script by writer Nguyen Hieu and artist Le Chuc has been adapted to suit puppetry, but the psychological development of the character follows the main conflict of the original literary work.
The performance team includes musician Nguyen Vinh Tien and choreographer Hong Phong who are expected to make a creative breakthrough.
Veteran artist Le Dinh Nguyen, who is in charge of puppet drawing, has drawn about 30 characters in an abstract style.
"According to the original, except for the two characters Tu Hai and Ho Ton Hien, there are prototypes in real life," said artist Nguyen. "The main character Thuy Kieu and others are all drawn by my imagination. We agreed to draw the characters in surrealistic ways that are abstract but still convey the message of the times."
The Kiều puppetry performance will be included in the 4th International Experimental Theatre Festival in October in Hanoi. With the uniqueness of puppetry art as well as a talented and enthusiastic creative team, the performance is expected to be a hit at the festival.
Director Dung has helped the Viet Nam Puppetry Theatre achieve success. He was involved in Nhịp Điệu Quê Hương (Rhythm of The Homeland), Aladdin and The Magic Lamp, and Tôn Ngộ Không Đánh Bạch Cốt Tinh (The Monkey King), which have all won prizes at domestic and international festivals.
VNS