The Putaleng XC Open, the first international cross country paragliding competition in Vietnam, will be held in Tam Duong District in Lai Chau Province from November 28 to December 1.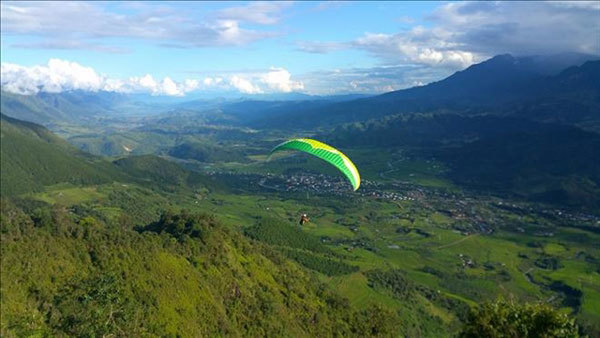 The Putaleng XC Open will be held in Tam Duong District in Lai Chau Province on November 28. — Photo thethaovietnam.vn
The event will attract the participation of 80 pilots from 12 countries including Russia, Australia, Belgium, Japan, South Korea, Malaysia, Indonesia and Singapore.
Among participants, there are prominent faces such as Yosh Pasha of Indonesia; Le Hoang Bach and Tran Hoang Kim of Vietnam; Yong Tae Ahn and Chikyong Ha of South Korea.
The competition will be organised by the Vietwings Hà Nội Paragliding Club and the provincial and district People's Committee.
It is recognised by the World Air Sports Federation (FAI) and Vietnam Air Sport Association (VASA).
According to the event's organising board, the best players will be selected to compete at the upcoming Paragliding World Cup.
Tam Duong is located in northeast Vietnam which is separated from other regions by high mountain range Hoang Lien Son. The site is surrounded by two high mountain ridges with the two highest peaks of Vietnam which are Fansipang and Putaleng.

Paragliding has become a popular sport among youngsters over recent years. Paragliding festivals have been frequently organised by paragliding clubs at popular tourist attractions in the northern region. 

You've heard of Mount Fansipan, the highest point of Vietnam at 3,147m above sea level, but Vietnam has a few other peaks worth checking out, including Putaleng Mountain.
VNS