The northern province of Quang Ninh held a ceremony in Ha Long city on April 22 to introduce two newly-recognised national treasures – the Dau Ram pottery jar and the Ngoa Van-Yen Tu golden lotus-flower-shaped box.
Unique national treasure in Giam pagoda
Vietnam adds 22 additional artefacts to national treasure register
Mysterious stone pillars of Dam pagoda
Additional 22 artifacts gain "national treasure" status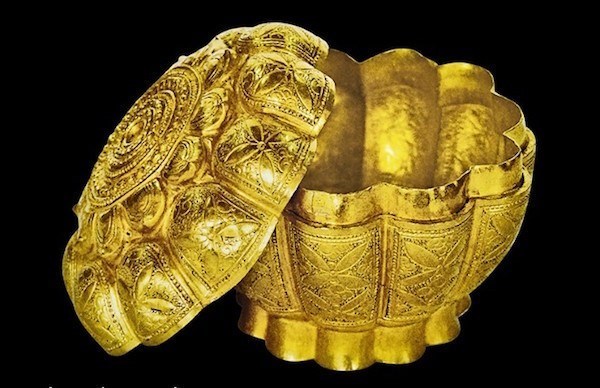 Golden lotus-flower-shaped box at Ngoa Van Pagoda on Yen Tu Mountain
The jar, dating back to the late Phung Nguyen period (3,400-3,000 years ago) and the golden lotus-flower-shaped box of Ngoa Van Pagoda on Yen Tu Mountain, dating back to the 14th century, are both preserved at Quang Ninh Museum.
The pottery jar was discovered in 1998 and the ornamental box found in 2012, however it was until more recently that they received national treasure status in December 2018 under a decision by Prime Minister Nguyen Xuan Phuc, along with 20 other artifacts.
At the ceremony, the province opened a thematic exhibition on "From Thang Long to Yen Tu – the journey from King to Buddha".
On the occasion, the Quang Ninh Museum also showcased 100 photos, documents, and other items highlighting the relic sites uncovered through digs at Thang Long Imperial Citadel, along with the relic systems related to the Tran Dynasty (1225-1400) and Truc Lam Yen Tu sect in Quang Ninh.
The exhibition aims to introduce historical and cultural values in the Tran Dynasty, as well as the thoughts of King-Monk Tran Nhan Tong, who founded the Truc Lam Yen Tu sect.
The display will be open until May 30. –VNA