A representative of Ricardo Quaresma has rubbished claims that the Portuguese footballer was gearing up for a move to Vietnam.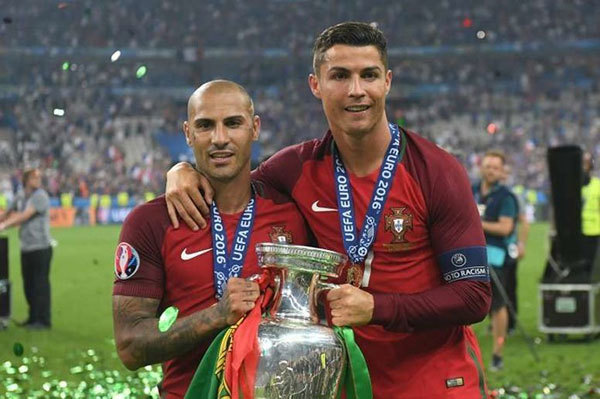 Ricardo Quaresma (left) – (Illustrative image -- File photo)
Despite online reports that the star player was ready to play in the V.League, Việt Nam News has learned that Quaresma did not want "to go specifically" to Ha Noi FC.
In an email sent to Ha Noi FC published by various Vietnamese media outlets on July 11, Oscar Soler Sola introduced himself as an "intermediary" for the 35-year-old winger and told the V.League 1 champions that the player was available for transfer from Turkish side Besiktas.
The Spaniard said the year remaining on the player's contract in Turkey wouldn't be a problem if an offer was put in that could "convince" him.
The following day, online reports emerged claiming that Ha Noi had declined to sign Quaresma as the Euro 2016 and Champions League winner was not in the club's transfer plans and that the offer came too close to the closing of the Vietnamese transfer window on July 8 to secure a deal.
However, when contacted via email by Việt Nam News, Sola poured cold water on the notion that Cristiano Ronaldo's former teammate had his heart set on playing football in Vietnam.
Instead, Sola said he "made a normal promotion of Quaresma through Asia" including Vietnam and Ha Noi FC.
He went on to explain that "Nowhere it's said that Quaresma wanted to go specifically to this club" and that the Vietnamese side merely "could have been one possibility".
The Portuguese star has represented some of Europe's top clubs throughout his career, including Porto, Barcelona, Inter Milan and Chelsea. His glittering trophy cabinet includes Champions League, Serie A and European Championship winner's medals.
Peter Cowan
VNS