Singer Le Quyen will celebrate her 20-year career with two concerts in HCM City on December 20-21 and one in Hanoi on January 4, next year.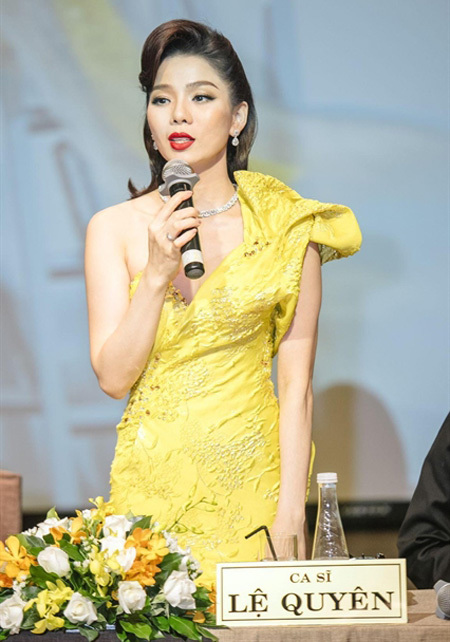 Singer Le Quyen introduces her live concerts at a press conference held last week in Hanoi and HCM City. — Photo courtesy of the singer
Quyen will sing solo for the three-hour shows. Each show will feature about 30 songs.
"As it marks 20 years in my career, I will make it spectacular, dramatic and emotional," said Quyen.
"I still work closely with general director Viet Tu and art director Hoai Sa to select the songs and set up the stage."
Quyen told Việt Nam News that she invested VND30 billion in the concerts to make them the best so far.
"It requires concentration in spiritual and physical strength. Now I spend all my time preparing for the shows."
Apart from usual vocal lessons, Quyen also goes to the gym for cardio exercises and practises yoga to maintain her strong voice and health for the performances.
Director Tu said the concert will be divided into five chapters reflecting the life and career of the 38-year-old singer. The chapters will feature her childhood, youth, love, memories and her success in art. She will perform well-known songs that brought her fame, as well as some she hasn't performed before.
He confessed he's nervous, because singing 30 songs continuously on stage and telling stories are not easy for Quyen.
"I believe in her strength and voice, but I still feel nervous because she chose the most difficult task in this solo marathon concert," he said.
However, Quyen said she feels comfortable because she has a team of 300 people who always support her.
"Directors Tu and Sa are the best in the national musical industry. I believe in them. Actually, I will not sing alone, the audience will sing along with me," she said.
"I often sing in lounges and clubs at weekends, that's the way I practise my skills, I am confident I can perform for three hours."
With a smile, Quyen said her task is the easiest, because singing is her profession, the best thing she can do.
Music is the only thing to focus on in this show, she said. The stories of her life will be told in music.
Diva Hong Nhung appreciated the bravery and talent of Quyen. She said she believed that the project would be successful.
"Quyen is at the peak of her profession, she gets many talented artists involved in the project, so I think she will provide viewers with a wonderful programme," Nhung said.
Tickets range from VND1 million to 10 million (US$50-500).
VNS

Popular singer So Hyang from the Republic of Korea is scheduled to make a return to Vietnam in order to perform at the "Spark live concert: So Hyang in Vietnam", which is set to take place in Ho Chi Minh City on December 14.