Tran Quyet Chien, world number three and the nation's highest ranked player, has been knocked out of the three-Cushion Carom Billiards World Cup 2019 which is currently taking place in Ho Chi Minh city.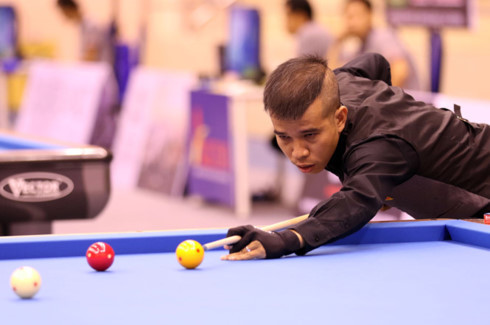 Vietnamese billiards player Tran Quyet Chien
During the first round of matches in Group F, Chien lost out to Daniel Sanchez of Spain, world number 16, with a score of 27/40.
In the second match of the group, the Vietnamese billiards player was held by Birol Uymaz of Turkey, world number 28, to a draw.
In the final tie of Group F, Chien recorded a victory over Jeremy Bury of France, world number 10, while Daniel Sanchez suffered a defeat at the hands of Uymaz.
After three matches played, Chien and Uymaz were both on the same number of points following one win, one draw, and one loss each. However, due to goal differentials the Vietnamese player suffered elimination from the tournament. The bad result will ultimately affect Chien's world ranking.
A number of other Vietnamese players were also knocked out of the competition, including Nguyen Tran Thanh Tu, Nguyen Quoc Nguyen, world number 11, Ma Minh Cam, world number 23, Duong Anh Vu, world number 31, and Tran Duc Minh.
Elsewhere, Ngo Dinh Nai and Nguyen Duc Anh Chien advanced to the quarter final stage.
Nai will face Dick Jaspers of the Netherlands, world number one, at 15:00 today while Anh Chien will take on Semih Sayginer of Turkey, world number four, at 13:00.
VOV