From top 49 of Vietnam's Got Talent to record-breakers, the journey of preserving Vietnam's traditional tò he (toy figurines made of rice dough) of brothers Le Xuan Tung and Le Xuan Tung has touched hearts nationwide.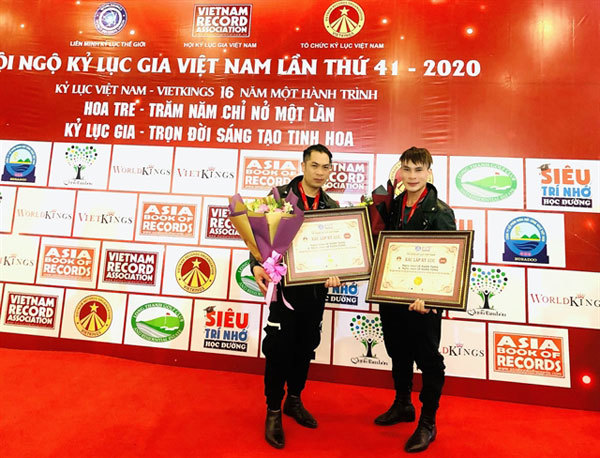 Le Xuan Tung (Left) and Le Xuan Tung after winning "The first artists to combine toy figurine material with chains and screws to perform paintings on stage" awarded by Vietnam Record Association on December 20th. Photo courtesy of Le Xuan Tung
They were recognised by the Vietnam Record Association as "The first artists to combine toy figurine material with chains and screws to perform paintings on stage" on December 20 last year. Behind the success, is hard work, dedication and care for the country's traditional toys.
Ngoc Du from Lao Động Cuối Tuần (Weekend Labour) newspaper chats with the two artisans
You set a Vietnamese record, what does this mean for your career?
This means a lot and is an honour for us. After more than 20 years of making toy figurines and enhancing the toys by combining screws and chains that brought the tradition on stage and set a Vietnamese record, we are more known to the public and we will have many more shows. With this record, it's a great milestone in our career.
As the only two people combining toy figurines with chains and screws, could you talk more about this idea?
In 2014, we saw that tò he (toy figurines) were less popular among young people so we were afraid they would disappear. After that, we decided to bring the toy making art to Vietnam's Got Talent to introduce this tradition to many more people.
At that time, we made a portrait of judge Thuy Hanh on a bamboo stick. We were selected into the top 49 semi-finals. On the semi-final night, with toy figurine dough, we drew a portrait of judge Hoai Linh.
After the show, we were well received and loved by the audience. In response to the audience's love, we continued to join some more gameshows to give the audience more performances.
We always want to bring new and surprising performances to the audience. Since Vietnam's Got Talent, we came up with the idea of ​​using screws and chains to combine with painting on stage and received support from the audience.
We are also the first and only people to use toy figurine dough, screws and chains to perform paintings on stage in Vietnam.
What difficulties did you face when performing with chains and screws?
Screw and chain drawing performances must be made of dry and hard toy figurine material, so during the performance, it requires a high degree of clarity, concentration and precision. There's no room for mistakes. If you just set the wrong drill bit or incorrectly cut the size of each different short or long chain, it will ruin the picture.
To achieve this record, we went through many difficulties, researching, thinking of ideas and contents to turn familiar materials like toy figurines, screws and chains into art.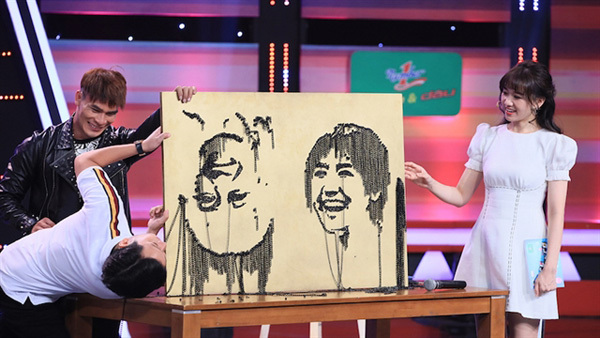 Le Xuan Tung's portraits of celebrities Truong Giang and Hari Won made with chains and screws. Photo htv.com.vn
As artists with more than 20 years of experience, why did you two decide to stay in this profession for so long?
We stick with toy figurines to this day, wanting to preserve and develop the traditional profession of the country and also to maintain a unique cultural beauty of Vietnam. We do not want this tradition to disappear in hope that the next generations will still know about it. When referring to toy figurines, you are talking about the childhood and memories of the Vietnamese people.
What does toy figurines mean in your life?
Toy figurines are our daily joy, every time we make them we have the opportunity to bring joy to children and everyone else. A day without toy figurines is a day without the fullness of joy.
If we could go back in time, we would still choose to preserve this tradition, because thanks to toy figurines, the two names Xuan Tung and Xuan Tung are more known and mentioned by many people and have had certain successes like today.
What are your plans for the new year?
We hope that Vietnamese folk toy figurines and other traditional crafts will be preserved and developed.
In the following years, we hope to bring toy figurines to more countries around the world to introduce the cultural beauty of Vietnam. We want the craft to not only stay in the memory of Vietnamese people but also in the minds of international friends.
Le Xuan Tung is making toy figurine for foreign friends. Photo laodong.com.vn
In the next year, we hope we can follow our plan and schedule with invitations to other countries to introduce our folk toys. In the future, we will work on portrait paintings of Vietnamese artists, writers, poets and musicians using different materials.
We look forward to having an art gallery so that there is an exhibition to look back on your work and also a place where our fans can visit. VNS

Popular magician Nguyen Manh Phuong was recently awarded the world record for the first illusionist to perform with a 4D screen. Le Huong chats with the magician about his passion.

The Mid-Autumn Festival seems different this year due to the coronavirus pandemic. The atmosphere is less boisterous and fewer events are being held, but people can still enjoy various festive activities at major locations in Hanoi.