With a passion for her career as a boxing referee, 1-star International Boxing Association (AIBA) referee and judge, Bui Thi Nhat Le, just wants to referee good, clean fights to help the sport progress.
She also prides herself on protecting boxers when they can't protect themselves, as any good referee should. Thanh Nga speaks with her.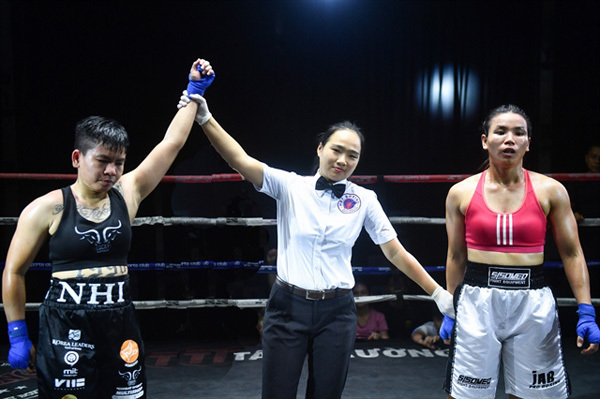 Referee Bui Thi Nhat Le (centre) seen in a domestic boxing event. Photo courtesy of Bui Thi Nhat Le
Can you introduce a little bit about yourself?
My name is Bui Thi Nhat Le. I was born and raised in the martial arts land of Quang Ngai Province in 1994. I currently live and work in HCM City. I'm a 1-star AIBA referee and judge, a general boxing referee of HCM City and a boxing coach at Rach Mieu MMA (Mixed Martial Arts) Dragon Club in HCM City.
How did you get into boxing?
I loved martial arts since I was a child and I had boxed since I was a teenager. In June 2015, the Vietnam Boxing Federation (VBF) held the first boxing referee class. I took part in the course and was selected to join the Vietnamese boxing referee force.
Previously, you studied to be a pharmacist but gave it up to become a boxing coach? How did that happen?
Actually, before that, refereeing was not an option for me. I left my passion to go to HCM City to study to become a pharmacist. But that passion for martial arts was inescapable. Although I sat in the lecture hall studying, my heart sobbed with nostalgia when I stood in the ring. Then, I had a new chance to return to the ring where I had sweated, and even shed blood and tears. That was the profession of a boxing referee.
I also wanted to be a judge referee so as not to miss any talents of the country.
What motivated me to become a referee even more was a fight in the Let's Viet Championship in 2015 between boxers Trinh Diem Kieu and Nguyen Thi Tam. Because of the error of the referees and a letter sent by Tam to the VBF's chairman Tran Minh Tien, the organisers of that tournament decided to invite a Thai expert to check the score of the match again. As a result, the original winner Kieu was adjudged to have lost the fight, but Kieu was satisfied with the fairness of the judgement.
If there had been no drastic actions to keep boxing clean, Tam may not be the famous boxer she is today. She is sure to gain a ticket to compete in the upcoming Tokyo Olympics.
I just hope the matches are fair. The boxers can compete to the best of their ability and get the results with their strength. That makes them progress and helps boxing develop with clean matches.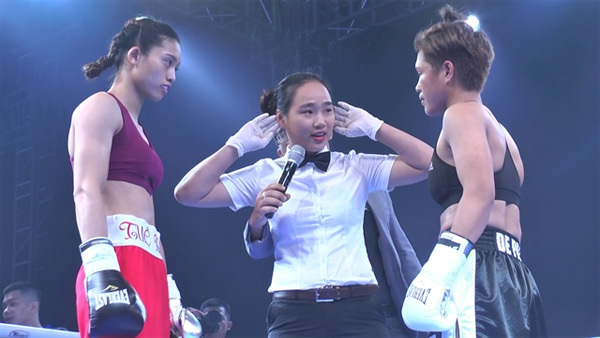 Referee Bui Thi Nhat Le is always expected to bring fair boxing matches.  Photo courtesy of Bui Thi Nhat Le 
To become a 1-star AIBA referee is not easy, how did you manage it?
I have worked in events run by the VBF since 2015. In 2018, the federation opened a training course for nearly 100 referees but only 16 qualified for the 1-star AIBA arbitration contest and I was lucky enough to pass.
I have refereed in many tournaments such as National Boxing Championships, Victory 8 Boxing Tournament, WBO Oriental Title Boxing Match, Celebrity Fight, Martial Arts Night and Bai Danh Chien, an amateur martial arts championship featuring various styles, including boxing, kickboxing, Muay Thai, and MMA held in HCM City.
Martial arts referees are completely different from referees in other sports. In every match, the life of the boxer must always come first, so how do you handle that responsibility?
That's right, the referees of each sport are different. A football referee who blows the whistle still has time to consider a decision before running to the spot of the foul. A boxing referee doesn't have that time. The referee must put the boxers' life and health first, so it is important for the referee to learn the law, master the law, focus on their work on the ring and finally gain experience.
Many people say that referees have to please everyone. Do you agree?
It is right. The refereeing profession is a job that has to please everyone. When it is beneficial for the team, the coach doesn't have an opinion. When it is disadvantageous, the coach makes a fuss with the referee and the organisers. But I don't care about that. I take my responsibility and right to run a clean match.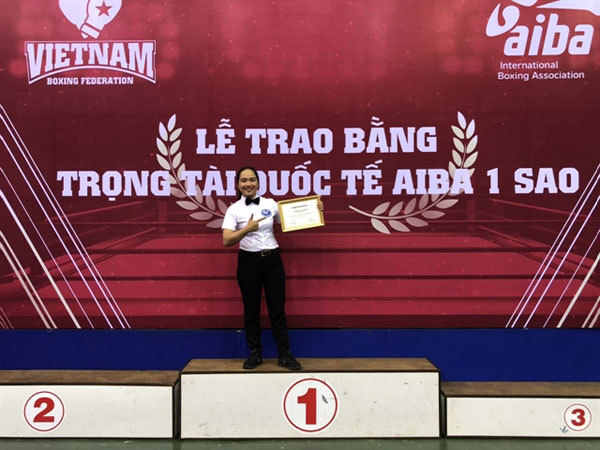 Bui Thi Nhat Le poses with her 1-star AIBA certificate. Photo courtesy of Bui Thi Nhat Le
There aren't many women boxing in Vietnam and the few that are working get little appreciation. What do you think about this?
There are few Vietnamese boxing referees in general, not just women referees. It is not right that female referees aren't appreciated. Because when managing a match, men and women are the same. Sometimes it [the appreciation of women boxing referrees] also depends on the fairness of the leaders [of Vietnamese boxing].
What are your plans for the future?
I wish to improve my level, have the opportunity to exchange and gain more experience in domestic and international tournaments. And I will try to study and become a 2-star AIBA referee and judge.
Besides being a boxing referee, do you have any other side jobs?
I used to have a business as well, but now I focus on my work at the MMA Dragon club as a coach. I am also working for the Vietnam Mixed Martial Arts Federation and in the near future, I will also be a referee in MMA.
Source: Vietnam News

Boxer Nguyen Thi Tam is expected to earn a ticket to compete in the women's 51kg category at the upcoming Tokyo Olympics.

All eyes will be on Nguyen Thi Thu Nhi when she fights for the World Boxing Organisation Asia Pacific minimumweight title on Saturday in Cambodia.