Quach Thi Lan, the last Vietnamese athlete still in the Olympics, ended her journey in Tokyo after finishing 6th out of eight runners in the 400m hurdles first semi-final on August 2.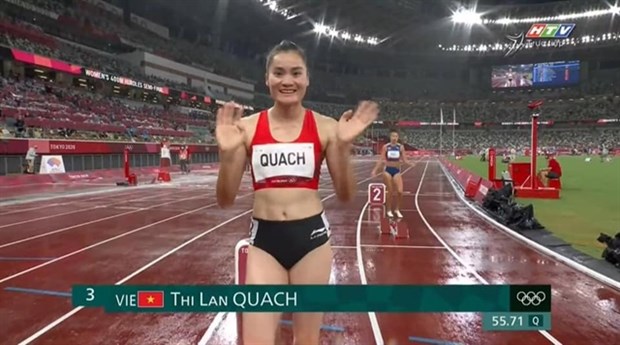 Quach Thi Lan, the last Vietnamese athlete to finish competing in Tokyo, has ended her journey after finishing 6th among eight runners in the 400m hurdles semi-final 1. (Photo: TV Screenshot)
Under heavy rain, Lan finished with a time of 56.78 seconds. This is 1.07 seconds and 1.48 seconds less than her previous performance in Heat 3 of the qualifiers and her personal best, respectively.
First place belonged to the defending Olympic champion Dalilah Muhammad (the US) with a time of 53.33 seconds while Jamaican Janieve Russell finished second to go through to compete in the final.
Despite being defeated, Quach Thi Lan's journey will be one to remember. She had the best performance in the history of Vietnamese athletics.
Of 40 athletes, Lan was the only athlete to compete in the Tokyo Olympics through a wildcard entry and the only unranked athlete in the top 24 best runners in the semi-finals.
Vietnam's 43-member Tokyo Olympics 2020 delegation including athletes, coaches and staff will return home on August 4./.
Source: VNA