Music group Saigon Soul Revival will introduce some tracks from their debut album in the work at Nguoi Sai Gon (Saigonese) Café in District 1, HCMC on May 10.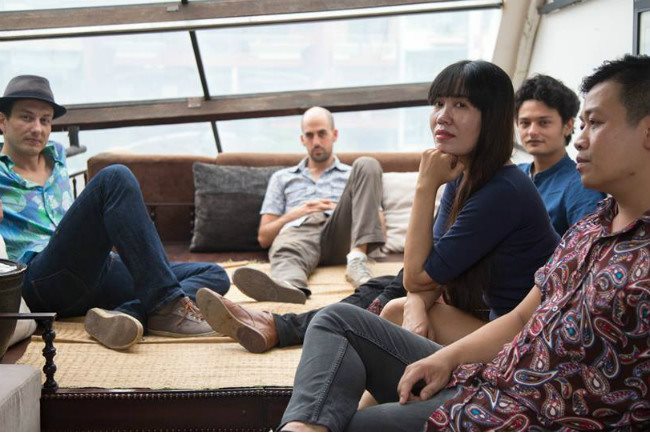 Members of Saigon Soul Revival - PHOTO: COURTESY OF BRITISH COUNCIL VIETNAM
The event is part of the FAMLAB Open Session, a series of showcases for contemporary interpretations of Vietnam's music and film histories organized by the British Council in Vietnam.
Taking place inside a bolero café in an old apartment building and utilizing a public-rehearsal format, the event will shed light on a music collective that is on its way to interesting and important milestones.
The group will be joined by a cast of collaborators, including Jan Hagenkoetter, the producer behind sister project Saigon Supersound. They will play and provide stories around the tracks, some more well-known than others, including decades-old compositions never before recorded, as well as new originals penned by Saigon Soul Revival.
The group will also reveal the ideas and inspirations behind their current multi-media undertakings. There will even be room for the audience to vote for their favorite tracks of the evening.
Saigon Soul Revival is one of the grantees thus far of the British Council's FAMLAB Fund initiative. The council is accepting applications for the current round of the fund.
The group was formed in 2016 to preserve and recreate the raw sound and energy of alternative Western influenced Vietnamese music from the 1960s and 70s while applying new arrangements and interpretations of old Vietnamese songs.
Saigon Soul Revival has preformed countless shows at a variety of venues across the country, including major events like Quest, Vibe Nation and Mui Ne Music & Art festivals.
They have also been part of Jan Hagenkotter's internationally acclaimed compilation Saigon Supersound release tour and took part in the nationally known Ban Nhac Viet TV show.
The group's upcoming open rehearsal and discussions will start at 7:30 p.m. and offer free admission. Those interested should register in advance at http://bit.ly/SSR1005. SGT