Vietnam secured the second place in the medal tally of the ongoing 30th Southeast Asian Games (SEA Games 30) as of 5pm (Hanoi time) of December 1, the first official competition day.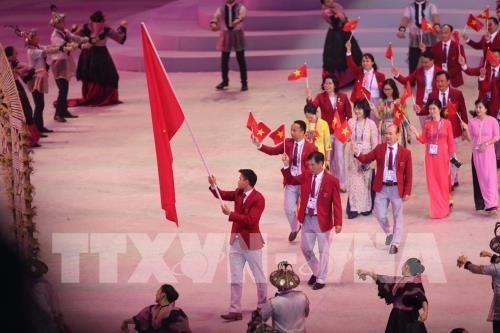 Vietnamese athletes at the opening ceremony of the SEA Games 30
Martial artist Tran Thuong earned a gold medal in kurash men's -90 kg, while Trinh Thi Huong won the second gold in kurash for Vietnam in women's -53 kg after beating her rival from hosts the Philippines.
After winning a gold medal in jive, Doan Minh Truong and Nguyen Trong Nha Uyen clinched a silver in dancesport's five dance with 163.065 points.
Nguyen Duc Hoa and Nguyen Thi Hai Yen previously triumphed in quickstep.
To date, Vietnamese dancers have brought home two gold, six silver and two bronze medals.
Earlier the same day, Vietnam earned golds in cycling, dancesport and weightlifting..
Hosts the Philippines currently top the tally with 13 gold medals.
SEA Games 30 officially kicked off on November 30 and is set to wrap up on December 12, with the participation of athletes from the 11 Southeast Asian nations. About 8,750 athletes are competing in 56 sports.
The Vietnamese delegation to the SEA Games 30 comprises 856 members, including 568 athletes competing in 40 sports.
Vietnam aim to bring home at least 65 gold medals, particularly gaining excellent achievements in such Olympic sports as track and field, swimming, artistic gymnastics, fencing and wrestling.
Vietnam aims for top three of 30th SEA Games
The 2019 Southeast Asian Games officially opened on November 30 with the staging of a glitzy opening ceremony at the Philippine Arena in Bocaue, Bulacan.
It is the first time in the 60-year history of the regional meet that the opening show is held indoors, taking place in the world's largest indoor arena with a 55,000 seating capacity.
Vietnam set a goal to finish in the top three of the Southeast Asian Games' medal table. The 856-strong contingent including 568 athletes will take part in 43 out of 56 sports in the Philippines.
After months of preparation, athletes will try their best to win at least 65 gold to be one of top three teams. Vietnamese athletes will work hard to keep our No 1 ranking as well as good results in track-and-field, swimming, gymnastics, fencing and wrestling, which are also Olympic events.
Coach Truong Minh Sang said, "Of course our most challenging contestant is ourselves. We need to overcome ourselves and try our best as we have prepared well for this competition since early this year. I hope the athletes will gain outstanding victories."
The track-and-field have been set a tough goal of 15 golds. Quach Thi Lan, one of the team members, said, "I feel upbeat and eager to compete. I have tried my best this year and hope to excel myself and my own records."
Tran Duc Phan, head of the delegation and deputy head of the Vietnam Sports Administration, said all athletes were ready and determined to do their best at the regional biennial event.
He noted, "We are all ready for the competition. We are always aware of our task to do our best to be deserved with people's love. After months of preparation, we - athletes, coaches and supporting staff - are ready, confident and can't wait to compete at the 30th SEA Games in the Philippines. We know that challenges and difficulties are waiting ahead but we will try our best to win at least 65 gold to be one of top three teams"./.VNA/VOV