Veteran striker Nguyen Anh Duc scored a dramatic stoppage-time winner to give Vietnam a nail-biting 1-0 victory over Thailand in their 2019 King's Cup encounter at Chang Arena in Buriram on June 5 night.
Seconds before the final whistle, Anh Duc rose powerfully to meet Xuan Truong's corner with an emphatic finish that proved cunning enough to beat Thai goalkeeper Kawin Thamsatchanan.
Together with the 2018 AFF Cup triumph, the convincing win against Thailand on Wednesday helped Park Hang-seo's Vietnamese side affirm themselves as the "true king" of Southeast Asian football.
Thailand headed into the match with strong determination to avenge their losses to the Vietnamese side at the U-19 and U-23 levels.
Vietnam dominated ball possession in the first half, but it was the Thai side who came close to opening the scoring, with Supachai Jaided striking the post after 18 minutes and Thitipan Puangchan skewing a powerful volley narrowly wide from outside the box in the 34th minute.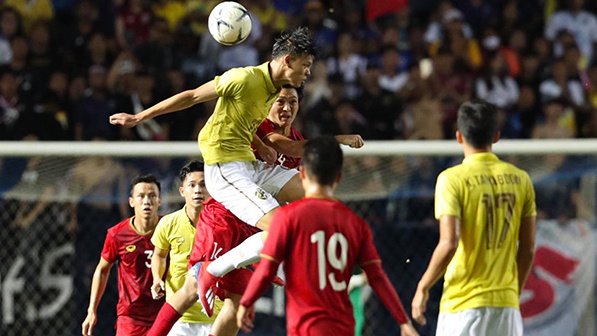 The battle takes place fiercely in midfield.
After the break, Thailand put up pressure seeking to break the deadlock. They successfully found the back of the net 10 minutes from the hour mark thanks to Theerathon's subtle freekick, but their goal was denied by the referee due to Adisorn's infringement on Vietnam's Anh Duc.
In an effort to strengthen Vietnam's attacking power, coach Park Hang-seo decided to put forward Nguyen Cong Phuong onto the field in replacement of Nguyen Van Toan. Phuong immediately proved his value by striking over the crossbar in the 73rd minute.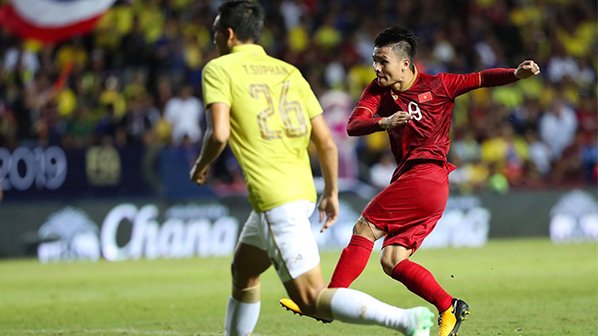 Quang Hai comes close to scoring the opener for Vietnam as he strikes narrowly wide in the 81st minute. 
Quang Hai almost opened the scoring for Park's side with a left-footed shot off post eight minutes later.
As the match seemed to end up in a goalless score after 90 official minutes of play, veteran striker Nguyen Anh Duc again became the hero of Vietnam by heading home a late winner in stoppage-time to seal the Golden Dragons a thrilling 1-0 victory over the War Elephants.
The convincing win has sent the Vietnamese squad into the King's Cup final against Curacao, who trounced India 3-1 earlier the same day. Nhan Dan

Vietnam held their first training in Buriram, Thailand, ahead of the King's Cup yesterday with the team in a buoyant mood and ready for the tournament.

The national team held their first training session in Buriram on June 2 in preparation for their opening clash against host-nation Thailand in the King's Cup 2019 which will take place on June 5.

Here is the strongest line-up that Vietnam could field in their upcoming clash against host-nation Thailand in the King's Cup 2019 .